Apr 27 2016

Detroit's resurgence depends on coordination and cooperation among business, government, and philanthropy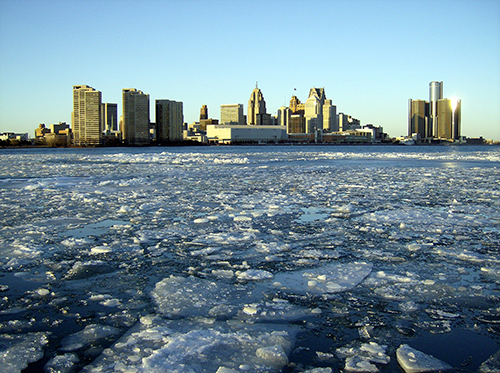 In a Brookings Institution panel yesterday, experts came together to discuss how business, philanthropy, and government have played key roles in Detroit's economic resurgence and emergence from bankruptcy.
The event began with a presentation from Rip Rapson, President and CEO of the Kresge Foundation, on the Detroit Reinvestment Index: A Kresge Foundation Measure of Detroit's Comeback. According to the Index, 71 percent of business leaders see Detroit as a good place to invest for their business. Rapson also summarized the key characteristics of Detroit's resurgence, hoping that other struggling cities can learn from what's currently happening in Detroit.
One key part of #DetroitResurgence has been recalibrating the role of each sector according to what each does best – @RipRapson

— Intersector Project (@theintersector) April 26, 2016
Rapson was then joined onstage by Sandy Baruah, President and CEO of the Detroit Regional Chamber; Stephen Henderson, Editorial Page Editor for The Detroit Free Press; Quintin E. Primo III, Co-Founder, Chairman, and CEO of Capri Investment Group, LLC; and Jennifer S. Vey, Fellow and Co-Director, Anne T. and Robert M. Bass Initiative on Innovation and Placemaking. The discussion touched on several topics, from the most pressing, seemingly intractable problems facing the city…
85% of the jobs in Detroit are held by people who live outside the city – @SHendersonFreep on density challenges #DetroitResurgence — Brookings Metro (@BrookingsMetro) April 26, 2016
Shocking number: according to @SHendersonFreep, 47% of Detroit pop is functionally illiterate. Time to invest in people. #DetroitResurgence

— Ross Tilchin (@RossTilchin) April 26, 2016

To how the city has managed to attract private investments…
Is #DetroitResurgence a blip? @jvey1 says no: fundamental market shifts driving demand for dense urban places that promote collaboration. — Alaina Harkness (@harknessa) April 26, 2016
Incredible market opportunity in downtown #Detroit: 150K daytime working population, only 20K housing units nearby. #DetroitResurgence

— Ross Tilchin (@RossTilchin) April 26, 2016
"We thought the way to solve Detroit's PR problems was to start solving Detroit's problems." – @Baruah_DRC_CEO #DetroitResurgence — NewUrbanism (@NewUrbanism) April 26, 2016
To the roles and responsibilities of each sector in solving Detroit's most complex problems…
.@jvey1: partnerships betw business, philanthropy, & gov't are needed to connect growth+inclusion in cities like Detroit. #DetroitResurgence

— Amy Liu (@amy_liuw) April 26, 2016
.@SHendersonFreep: Business & philanthropy needs to invest in the people as well as the infrastructure of Detroit. #DetroitResurgence — Amy Liu (@amy_liuw) April 26, 2016
Partnerships key but gov has hard time distributing responsibility b/t sectors, inviting people to the table – @RipRapson #DetroitResurgence

— Intersector Project (@theintersector) April 26, 2016
To what's next for Detroit…
What's next step for #DetroitResurgence? "Pivot into the neighborhoods, taking your toolbox of innovative strategies with you." @RipRapson — Kresge Foundation (@kresgefdn) April 26, 2016
For more insights from "How philanthropy, business, and government sparked Detroit's resurgence," see the full video of the event:
For further reading on intersector collaboration in Detroit, see:
Our Case Library:
Redeveloping the Riverfront in Detroit
Improving Public Schools with Business Volunteers in Detroit
Our blog:
Kresge Foundation calls for multi-sector support to improve early childhood education in Detroit
Cross-sector collaboration is crucial in attempt to eliminate Detroit's blight
Developing Detroit's talent through collective impact