Jun 29 2015

Developing Detroit's talent through collective impact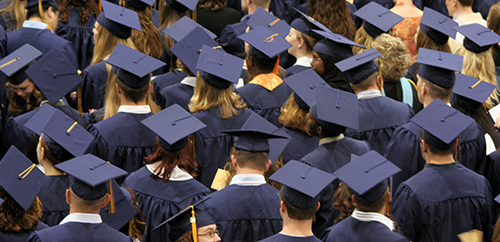 By Ron J. Stefanski, Executive Director of Strategic Alliances at Cengage Learning
The job skills gap in Detroit is vividly represented by a staggering 15 percent of the city's adult population without a high school diploma. This remains one of Detroit's most pressing challenges. An area employer recently shared they had almost 100 openings, none of which could be filled with qualified local talent. Develop local mid-skills talent, restore more mid-skills jobs, and we have a recipe for Detroiters to participate in the city's revitalization. Turn Detroit into an engine of sustained economic growth, with a pool of skilled talent, and Michigan takes its economic recovery to an entirely new level.
So how can a global education company with strong ties to Detroit play a role? Cengage Learning recently announced its Clinton Global Initiative Commitment, "Detroit Collective Impact – Pathway to Education & Work."
Alongside other businesses and social service organizations, we're committing to use our collective resources to accelerate Detroit's recovery by implementing some of our best and most innovative educational solutions. Through this initiative, Detroiters in need can earn their high school diplomas and get valuable career training through Career Online High School (COHS), an evidence based program designed for those who are out of school, gated in their current low-skill careers because they lack the education required for mid-skill employment. Our partners will be providing tuition assistance. What's more, learners will be surrounded by a skilled support and engagement system that helps them achieve their educational goals — and prepares them for opportunities that lead to greater success and security.
The Detroit Collective Impact Initiative: A Coalition of the Caring
Our company roots in Detroit go back over 60 years with Gale, a leading provider of library resources. We currently have more than 500 employees in metro Detroit that work on myriad learning solutions for learners of all stripes. But one online solution — and one progressive education company — can't resolve a city's education and economic issues on its own.
But one one online solution — and one progressive education company — can't resolve a city's education and economic issues on its own.

As we've discussed our plan with legislators and leaders in the City of Detroit, the State of Michigan, and in Washington, we've heard the same thing: Education is a local, community-inspired endeavor. We agree — For this reason, we're mobilizing public and private organizations across Detroit to partner with us to provide educational opportunities for those in their own neighborhoods. We started working with a coalition of caring partners — including Matrix Human Services, McDonald's Corporation, Michigan Virtual University, and Kinexus. We are collectively focused on those out-of-school who don't have the education or skills to succeed in the 21st century globally connected economy. As word spreads of our collaboration, we are confident other partners will join us in this effort.
Each of our current launch partners brings something valuable to the equation. Cengage Learning brings a unique series of educational solutions, as well as the means to connect thought leaders and decision makers. Our partners bring skills and resources such as tuition assistance, student recruitment, mentoring, learning labs, and other services that encourage people to re-engage in their education. This collective outreach is designed to produce results in the city many of us choose to call home.
Detroit: A History—and Future—of Innovation
At the heart of the Governor Rick Snyder's recent Policy Conference on Mackinaw, Detroit, and urban revitalization, was discussion among policy makers, non-profit and business leaders, educators, and legislators. There were strong signs of collaboration on display — between Governor Snyder and Mayor Duggan, as well as Duggan and the Detroit City Council. The Skillman Foundation, under the visionary leadership of Tonya Allen, was also on hand as the architect of the "Coalition for the Future of Detroit Schoolchildren." Its recent report on the state of public education in Detroit is sobering. It represents the equivalent of a "ground zero" of dysfunction and long-term cumulative financial and operational challenges across the educational landscape in Detroit. The Skillman Foundation has mobilized a dedicated group of public and private sector leaders to jointly address the issues facing Detroit's schoolchildren.
But what does this mean if you were one of thousands who didn't make it through the labyrinth of Detroit's complicated educational corridors over the past decade? If you lived in one of Detroit's impoverished neighborhoods where a quality education was elusive if not completely out of reach? It very likely means that you've become part of a larger community across the country, now numbering 40 million or more, who are part of America's "ungraduated" – part of a growing population of the disconnected who are not in school, not working, and not serving in the military.
When my grandparents first arrived in Detroit in 1926 to work in the factories, assembly lines needed hard-working, dedicated people — Not having a high school diploma wasn't an impediment. Nowadays, an insufficiently educated population is a huge brake on economic development. We need to remove the financial, educational, and social impediments that limit how we advance our human capital and talent. We need educational innovation; an assembly line approach for everyone no longer works. As work moves around the globally connected economy at nano speeds, zip codes shouldn't determine one's destiny. But in my Detroit zip code, for example, the odds of a 14-17-year-old male's chances of earning a high-school diploma improve substantially if he is taken into custody as a Class A felon. What's wrong with this picture?
But in my Detroit zip code, for example, the odds of a 14-17-year-old male's chances of earning a high-school diploma improve substantially if he is taken into custody as a Class A felon. What's wrong with this picture?

As a Detroiter with my own deep roots in the city, I look at these educational challenges as a place where we can start to leverage technology and evidence-based best practices to create programs such as our Career Online High School and other community services to help Detroit recover by helping Detroiters get the education, training, and skills they need.
My Personal—and Professional—Mission in Detroit
I grew up in Detroit on the east side in the '60s, spending a lot of time with my grandparents, who moved to the city with a sixth grade education to work at Chrysler's Lynch Road assembly plant. My grandma Vicki was so passionate about Detroit for its technology and innovation. She saw it as the land of ultimate opportunity. But after years on the factory floor, as happy as she was with her life, she was convinced I needed an education to have an even better future.
As my immediate family ultimately left Detroit for the suburbs, my mother passed away, and Vicki became a central figure in my life. We lived together for periods of time, but she never considered leaving her home in Detroit – She was adamant about living out her years in the city she helped assemble. After our family moved, Vicki was killed in her home by a 14-year-old boy who had dropped out of school.
Was an individual perpetrator responsible, or were there even larger forces in the city that failed her? Twenty-five years later, I moved back to Detroit, motivated in part by a desire to address that question and help this city return to its position as an incubator of innovation and opportunity — to put the pieces and parts into place that can re-assemble what was dismantled in Detroit over many years. As I stand with our partners facing the 70,000 people in need of a high school diploma in this city, I imagine the assembly line my grandmother worked on addressing each task as the line advanced, one part at a time. If anything has changed in 25 years, it's my resolve to make sure we put the collective pieces together so more people have access to a quality education. I understand firsthand, and painfully, what happens when we deprive people of this opportunity. I've seen up close what happens when people don't see a future and don't seek help.
I'm privileged that my job allows me to develop partnerships, and I see this collaboration as creating Detroit's ultimate "Comeback Academy." Detroit is a city with a long history of building and re-building things. We're coming back again to rebuild, and witness firsthand how scrappy Detroiters take a new shot at getting the education they want and need. I'm convinced as we lock arms and join forces, they'll come back stronger than ever, returning to the labor force more skilled and better equipped for the opportunities that await them.
After all, our motto is "Speramus meliora; resurget cineribus: We hope for better things; we will arise from the ashes."
---
A University of Michigan graduate, for the past 10 years, Ron J. Stefanski has worked at Cengage Learning where he currently serves as Executive Director of Strategic Alliances. Prior to this, he was Director of Partner Development for the Michigan Virtual University, which provides supplemental e-learning curriculum resources for K12 students, serving over 26,000 students across Michigan. Ron is a passionate Detroiter whose "day job" aligns with his efforts to support Detroit's revitalization.