Oct 31 2014

Preservation of Wallowa Lake's Glacial Landscape: An Intersector Collaboration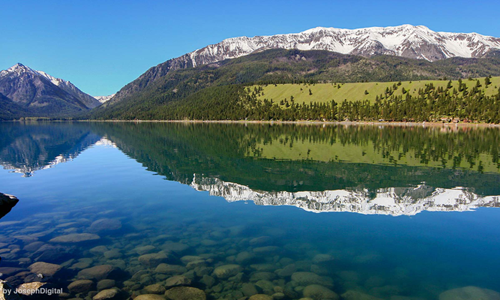 Across the United States — in areas from water management to shortgrass preservation — leaders often must look outside of their sector to form the partnerships needed to tackle complex environmental issues. Our Case Study Library contains several examples of these partnerships in action, including River Restoration in Virginia, Reforestation of Parks in Seattle, and Building Commercial and Environmental Partnerships in Crystal Cove, to name a few.
A similar collaborative effort is underway in Enterprise, Oregon, where partners from the private, civic, and government sectors are joining to preserve the east moraine along Wallowa Lake, "considered one of North America's most perfectly formed and best preserved glacial landscapes," according to the Wallowa Land Trust. A moraine is a mass of rocks and sediment carried down and deposited by a glacier.
While plans to protect this glacial deposit from development date back to the 1970s, the effort has seen renewed interest in recent months from an alliance of cross-sector partners, including the Wallowa Land Trust, private landowners, Wallowa County, the state parks department, and the local chamber of commerce. The coalition plans to apply for federal grants from the Forest Legacy Program, designed to protect working forests.
"Far and away, the majority of the community does not want to see development on the east moraine," said Mike Hayward, Chairman of the Wallowa County Commissioners.
The east moraine, which rises about 900 feet above Lake Wallowa, remains largely undeveloped and is owned by private landowners. While the land is used for grazing and timber, public access is also allowed for hiking and horseback riding.
In March of 2012, Jacob Hasslacher and his wife, Chris Antemann, became the first private landowners to sign an preservation agreement with the Wallowa Land Trust. The agreement places restrictions on their east moraine property that will protect it from development, permanently. While the couple can sell their land or pass it on to heirs, the restrictions will run with the land title and are permanent.
The trust is working with other landowners in similar ways. According to the Associated Press, the cross-sector coalition has also proposed that the county would own and manage the land for grazing and timber.
This collaboration, like the others profiled in our case library, illuminates the ways in which issues of environmental conversation — which touch on land ownership, private industry, public access to land, endangered plant and animal species, and more — require the coordinated resources, authority, and expertise that are unique to government, business, and non-profit sectors.