Jul 14 2016

NYCHA partnership model progresses, highlighting importance of community involvement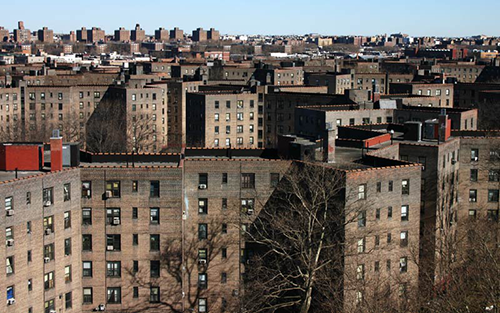 As New York City's Housing Authority continues its transition from direct service provider to coordinator of services with multiple for-profit and non-profit partners, perceptions of progress among those served are mixed — highlighting the importance of involving community at the table when forging partnerships and solutions.
Last summer, we wrote about NYCHA's NextGeneration NYCHA plan, the goal of which is to guide NYCHA as it shifts from providing services directly to its residents to relying more on partnerships and collaboration. NYCHA has faced an "enormous fiscal crisis," according to recent coverage in CityLimits.org — including $17 billion of capital repairs it is unable to finance and an annual operating deficit of tens of millions of dollars.
The agency has refocused by forging new partnerships in many ways: leasing land to developers who build "mixed-income housing" with units offered at both affordable and market rates; converting public housing to privately managed buildings that include Section 8 units; converting community centers and other service points to private managers, including 240 of its formerly 255 community and senior centers; and more.
CityLimits reports that some residents are optimistic about the changes, while others point to partners in the business and non-profit sector as "outsiders" who do not involve resident communities in decision making as NYCHA did.
We have previously written about the importance of involving residents as a key partner in public-private partnership models. In "An Empirical Examination of Public Involvement in Public-Private Partnerships: Qualifying the Benefits of Public Involvement in PPPs," researchers found that both the public and private sectors viewed public involvement as valuable. Through surveying experienced practitioners from both sectors, the authors found that citizen involvement during planning stages of transportation P3s contributed to better project outcomes and the delivery of quality services.
Eric Boyer, Professor of Public Administration, shared that citizen engagement provides "an instrumental performance-related benefit" beyond satisfying citizens' right to have a say in their government — a benefit that transportation decisionmakers can see in their results. Public involvement ensures that partners are receiving what Boyer refers to as a "localized user perspective," which can contribute to a successful project that is useful to the community.
This theme can be heard in the sentiments of residents who expressed their frustration with the new partnership mode. Lisa Kenner, tenant association president of Van Dyke I in Brownsville, says that while she is pleased with some aspects of the new programming, she is disappointed that staff of a new operator for Van Dyke's community center "does not communicate sufficiently with the tenant association executive board, did not include members of her executive board on the community center's own advisory board, and did not give her executive board sufficient heads-up about the community center's meetings or events," CityLimits reported.
One of the key findings of the research on public involvement in P3s is "the earlier, the better." As NYCHA continues its path to leverage the resources and expertise of multi-sector partners to serve residents, public involvement in early design stages will be key.