Jul 27 2017

Intersector Briefing: Hunger and Food Insecurity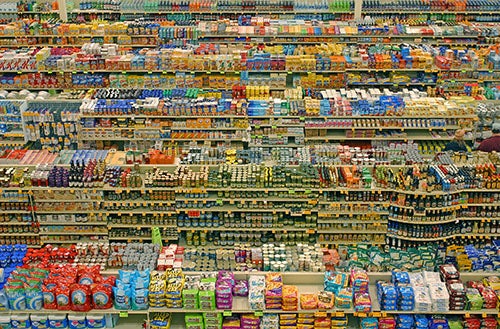 Hunger is a problem across the United States, with 42.2 million Americans living in food-insecure households as of 2015, including 29.1 million adults and 13.1 million children, according to Feeding America. The USDA defines food insecurity as a state in which "consistent access to adequate food is limited by a lack of money and other resources at times during the year."
Greater food security cannot be achieved by one sector alone; government agencies, farms, groceries, and other businesses and retailers, and non-profit organizations all have a role to play in increasing access to healthy, affordable food, a need likely to increase if the current administration follows through with a proposal to cut spending on food stamps, a program that currently serves 42 million people. This roundup includes articles, examples, and reports that help make the case for the involvement of the government, business, and non-profit sectors in improving food security across the United States — from Detroit to Omaha — discussing issues related to childhood hunger, food waste, and more.
---
A systems approach to addressing food insecurity
This recent article from The Reader, an alternative newspaper in Omaha, Nebraska, looks at what's shaping the food system in the area and who is attempting to improve it. "An effective food system involves a social contract of public-private players," the author writes in her discussion of the local non-profit No More Empty Pots. "It's not a simple thing to talk about food access and deserts," says Nancy Williams, head of the non-profit. "It's a whole system of the way we produce food and get food to people, the way people consume it and how we value it. The different ways intersect. It takes all of it. But there needs to be some calibration, hole-plugging, and shifting. We can get there, but it has to be done collaboratively so we're not working in silos." Another stakeholder in the area, Greg Fripp, involved in education around aquaponics in the area, notes a need to bridge policy makers and the people in the field who are doing the work to fix the system. "When that happens, we're going to see an acceleration of change in terms of how some of this stuff gets delivered," he explains. "You still have some people who make decisions not really connected to the community."
---
Best practices for creating a sustainable and equitable food system in the United States
This issue brief from the Center for American Progress "outlines a roadmap to create a more sustainable and equitable food system. It first provides an overview of the existing state of food insecurity in the United States; it then gives an overview of national best practices, highlighted through specific case studies; and finally discusses tools to fund such initiatives and build cross-sector partnerships that take a holistic approach to addressing food deserts and food insecurity." The examples profiled throughout the piece include the Pennsylvania Fresh Food Financing Initiative, the Los Angeles Food Policy Council, New Orleans' Fresh Food Retailer Initiative, and others.
---
States strategize to reduce childhood hunger
This brief statement from the National Governors Association highlights how other states are looking to Virginia's No Kid Hungry initiative for insight into how to leverage public-private partnerships to ensure children have regular access to healthy meals. No Kid Hungry is a partnership that includes the First Lady of Virginia, Dorothy McAuliffe, the Virginia Department of Health, the Virginia Department of Education, and several corporate partners. For a look at the different roles individuals from various sectors can take in a similar campaign, see No Kid Hungry's Playbook.
---
Down the rabbit hole: Why measuring food waste is so confusing
While food waste is not the same issue as food insecurity, they can be linked, as solutions related to food waste can also help improve food security. Food waste is an issue where there's little agreement on data among stakeholders, according to this blog post from Jeremy Kranowitz, an affiliate with the Keystone Policy Center, which is building a national coalition of industry, government, and non-profit organizations to work together to reduce food loss and waste in the United States. The USDA, for example, measures "food loss" (food that is spoiled before it gets to the consumer), whereas the EPA measures "food waste" (food that is fine when it reaches a consumer but does not get eaten). The author also notes a tri-sector initiative launched in January 2017 to create an online resource for those searching for materials to understand and combat food loss and waste.
---
Advancing Summer Meals Through Collective Impact
During the summer, food insecurity among children can increase, as they lose access to one or more meals they receive at school. According to this report from Share Our Strength's No Kid Hungry Center for Best Practices and Community Wealth Partners, in 2013, of the 21 million children who received free or reduced-price lunches during the school year, only 3 million (14 percent) received free meals during the summer. "In many communities, a lack of intentional collaboration among current and potential players inhibits large gains in summer meals," the authors write. But that's not the case everywhere. The report also highlights two cities where collaborative efforts were achieving significant results — Detroit and Baltimore — and the common factors that helped them succeed.