Jul 01 2015

Forward Cities convenes in Detroit to advance collaborative learning among cities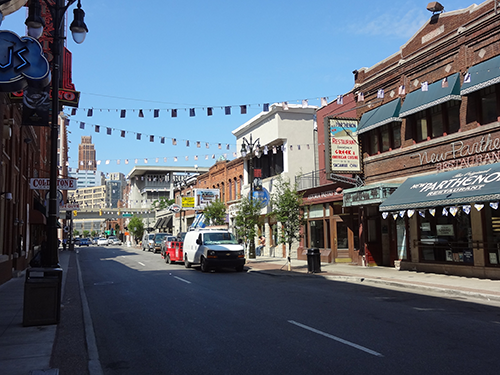 Last week, more than 200 leaders from across government, business, and civil society gathered in Detroit to discuss fostering connectivity and entrepreneurship in distressed communities to build innovative — and inclusive — local economies. The convening was the second of Forward Cities, the collaborative initiative that includes Detroit, Cleveland, New Orleans, and Durham, North Carolina. The first was in New Orleans last December, the third will be in Durham in December 2015, and the final will be in Cleveland in June 2016.
While Forward Cities seeks to advance collaborative learning among cities, it's had the effect of advancing cross-sector collaborations within cities, too. Detroit's Forward Cities Community Council represents Detroit's business community, philanthropic and non-profit community, local government, and university community. "For cities to come back stronger than ever before, they need to accelerate local entrepreneurial activity while ensuring that the rising tide lifts all boats," said Christopher Gergen, co-founder of Forward Cities, according to a recent press release. "Forward Cities offers a tremendous opportunity to share best practices and find opportunities for collaboration."
"Forward Cities offers a tremendous opportunity to share best practices and find opportunities for collaboration."

From June 24 – 26, leaders discussed a variety of themes — working with immigrant entrepreneurs in their neighborhoods; food entrepreneurship as a strategy for neighborhood revitalization; teaching entrepreneurship in public schools; developing women entrepreneurs; and innovative solutions to blight — chosen because of their relevance to Detroit's work creating an inclusive local economy, as well as to the work of other cities in the collaborative.
At The Intersector Project, we've been watching the innovation and cross-sector collaboration that has been a recurring theme in Detroit for several years. We profiled the collaboration that brought members of the business community into Detroit Public Schools' 141 schools in our case study, Improving Public Schools with Business Volunteers in Detroit. Later, we studied the collaboration that gave new life to the Detroit Riverfront in Redeveloping the Riverfront in Detroit. Detroit's M-1 Rail project, which we wrote about for GovExec State & Local, is another incredible example of cross-sector collaboration in the city.
We're following Forward Cities' work in Detroit with similar excitement. You can get a taste of last week's discussion in this Storify.