Oct 19 2015

Buffalo Bayou Park, redeveloped through intersector collaboration, opens this month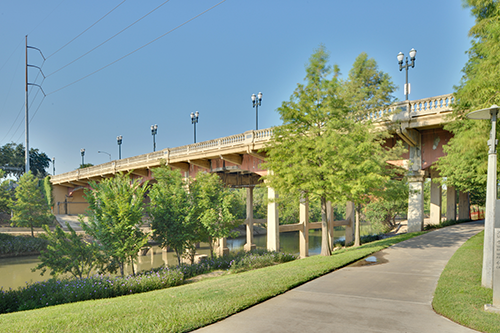 "Once a series of neglected trails along a polluted urban waterway, Buffalo Bayou Park … now provides a stunning west entrance to our downtown area, particularly at night when blue-tinged lighting waxes and wanes with the phases of the moon," opens a recent editorial in the Houston Chronicle. The park, the result of a cross-sector collaboration years in the making (and the subject of an Intersector Project case study), officially opened to the public this month after suffering years of neglect.
Located within minutes of downtown Houston, Buffalo Bayou Park is a 160-acre, 2.3-mile-long public space that is surrounded on both sides by high-use thoroughfares, rendering it difficult for nearby neighborhoods to access. In 2012, under the leadership of the Buffalo Bayou Partnership (BBP) Board and President Anne Olson, collaborative partners including the City of Houston, the Harris County Flood Control District (HCFCD), and a variety of non-profit organizations, design firms, and community groups began reconstruction of the park. With foundation support, as well as an additional $23 million from private donations and $5 million donated from the HCFCD, the BBP has been transforming the park by upgrading walking and biking trails, adding pedestrian bridges to adjacent neighborhoods, and restoring the natural landscape and bayou channel. According to the Chronicle, the redeveloped park includes a new sky lawn where residents can enjoy performances, two new kayak rental facilities, "grab and go" food vendors, bike rentals, and more.
The story of the park's development is one of collaboration within and across sectors. In 2006, the BBP had successfully completed its renovation of the Sabine-to-Bagby Promenade, which is also along the bayou but closer to downtown. At the same time, the Kinder Foundation, led by local philanthropists Rich and Nancy Kinder, had spearheaded the development of Discovery Green, a public park adjacent to the downtown convention center. The BBP's well-received reception of the transformed promenade excited the Kinders, and a connection was born.
After two years of preparatory meetings, in 2010 the Kinder Foundation offered an unprecedented $30 million grant to the BBP in order to revitalize Buffalo Bayou Park. This large gift served as a catalyst, stimulating private and public funding for the remaining $28 million required for the park's redevelopment. The BBP's Campaign Committee was able to initiate connections with major foundations, corporate funders, and private sponsors for sizable financial contributions, and direct mail campaigns to Houston residents simultaneously raised awareness and essential capital.
"Rich Kinder told the Chronicle editorial board that he and Nancy and their team considered public-private partnerships key not only to this project but to all green space projects in the city," the Chronicle reports. "No donor wants to see his money wasted, and the Kinders conditioned their catalyst gift on the existence of public funds to maintain Buffalo Bayou Park. With the Kinders' support at stake, the city agreed to ensure funding for the park until at least 2096."
The Chronicle editorial focuses on the importance of government leaders who use their financial and non-financial resources to enable and drive forward cross-sector collaboration: "With local elections just a few weeks away, Houstonians should not only enjoy this $58 million transformational project but learn from it. If our green space is to keep up with expected population growth, Houston needs to elect a mayor who has the skills and commitment required to continue to forge bridges with the private sector."