Aug 08 2014

Providing affordable housing through intersector collaboration
Partners' shared vision of success helps overcome odds in Cambridge, MA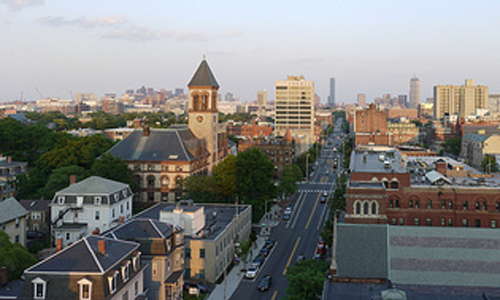 This summer, residents of Cambridge, Massachusetts' Central Square neighborhood will see the construction of an affordable housing project years in the making through a determined intersector collaboration. The six-story, $11 million Temple Place Apartments will house 40 one- and two-bedroom apartments for low- and moderate-income residents when it's completed in 2015.
The proposed site was home to a YWCA swimming pool that was no longer in use and in disrepair. The YWCA agreed to sign a 99-year lease with the Cambridge Housing Authority (CHA) in a deal that paved the way for CHA to build an affordable housing development in one of the most sought after real estate markets in the country. It also provided the non-profit with much-need revenue to renovate and update its adjacent facilities, which contain 103 units for single women who have been homeless or suffered abuse, as well as a family shelter. The private sector played a critical role, too; 13 private sector partners agreed to invest in the project, aided by a city policy providing 9 percent tax credits for investment in low income housing through the Massachusetts Department of Housing and Community Development. Funding comes from the City of Cambridge Affordable Housing Trust, City of Cambridge Home Funds, Massachusetts Department of Housing and Community Development, Massachusetts Affordable Housing Trust, Federal Home Loan Bank, East Cambridge Savings Bank and Tax Credit Equity.
While withstanding significant obstacles, collaboration partners remained committed to a common purpose, employing a tactic from The Intersector Project Toolkit, Share a Vision of Success. This tool refers to the agreement on a set of project goals and ideal outcomes that clarify the mission and priorities of the collaboration, which links stakeholders together and creates a mutual understanding of the benefits of success. In the Temple Place project, partners' commitment to the mission of increasing affordable housing in Cambridge's Central Square neighborhood carried the project through a host of obstacles. The proposed development is near offices, a bank, other residential buildings, and a church, and it underwent extensive review by Cambridge's historic assessment review staff. The project also faced a recession, a three-year legal battle from an adjacent commercial property owner, complex questions of funding and land transactions, and proposals for alternate uses of the land. The clear understanding of and commitment to purpose that arises through the participants ability to share a vision of success, despite approaching the problem from different sectors, enables initiatives like the Temple Project to withstand such obstacles.