Sep 22 2016

Public-private partnerships hold promise for Kentucky's parks, mirroring a national trend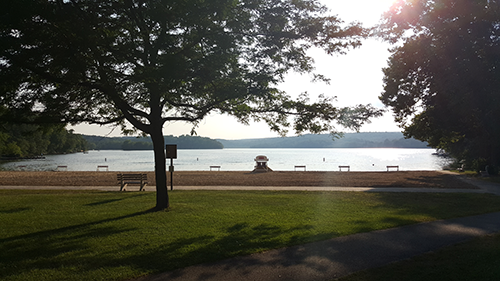 Kentucky's park system — comprising 49 state parks, 17 of which are resort parks with marinas, pools, and other amenities — has more than $241 million in deferred maintenance in its facilities, the National Council for Public-Private Partnerships reports. The NCPPP also reports that Kentucky needs additional funding to protect wildlife in parks, including the state's more than 10,000 elk. State legislation passed in April authorizing the use of public-private partnerships to develop infrastructure projects creates new cross-sector possibilities for Kentucky's parks, to which the state has also allocated $18 million for improving park lodges and camping areas. "This isn't about shrinking our footprint in recreation, it's about expanding it," said Don Parkinson, Tourism Secretary.
Business opportunities at the parks exist in the form of food and hotel services, Parkinson comments, adding that the parks can learn from outside investors' experience. "We're looking for new ideas," he explained. "Right now we're moving along here pretty quickly. We're asking anyone who wants to submit, to please submit it."
Parkinson shared that regulations should be finalized by mid-October. Also in October, the Kentucky Chamber of Commerce and the National Council for Public-Private Partnerships will host The Kentucky P3: Public-Private Partnerships Conference from the 27-28 to provide an in-depth look at new public-private partnership legislation and what it means for businesses and government entities across the state.
This cross-sector approach to maintaining Kentucky's parks mirrors the growth of public-private partnerships in national parks across the country, where parks and visitation are growing and resources are diminishing. According to a Government Accountability Office report, annual appropriations to national parks declined 8 percent between 2005 and 2014. These appropriations comprise about 88 percent of the NPS's roughly $3 billion budget. The park workforce is subsequently being trimmed, from the equivalent of 22,211 full-time employees in 2010 to 19,539 last year, according to a recent article in E&E. Yet the number of parks units, including national parks, preserves, recreation areas, historic sites, battlefields, and parkways, is increasing — from 394 park units in 2010 to 409 last year — along with the number of visitors from 118 million visitors in 1965 to an estimated 293 million last year, according to the NPS.
When tights budgets don't allow for hiring more NPS staff, volunteers play a vital role in maintaining park grounds and interacting with visitors. The growing phenomenon of NPS-non-profit partnerships for volunteer management is happening at several national parks, including Acadia, Arches and Canyonlands, Cuyahoga Valley, Golden Gate, the National Mall, and Yosemite. When successfully managed, the partnerships are "just seamless," a National Park Service ranger at Golden Gate shared with authors of the article "Structures, Challenges, and Successes of Volunteer Programs Co-managed by Nonprofit and Public Organizations." "When it comes to 'us' and 'them,' there is no 'them.' It's just an 'us.'" To learn more about the article and glean practitioner takeaways, see our Research to Practice feature How can cross-sector partnerships lead to stronger volunteer programs?
Cross-sector partnerships for state and national parks, while seemingly necessary, come with challenges. "I learned early on that if we wanted to do what we aspired to do in terms of connecting the next generation, I was going to have to tap the private sector to see if they would help us. And they have been," Interior Secretary Sally Jewell was quoted in a recent article in E&E. Working with the private sector can become complicated, however, as the authors of the article point out, asking, "What's to stop parks from becoming overly commercialized and beholden to their sponsors?"
The report Private Funding of Public Parks highlights other concerns, including uncertain funding patterns — "Voluntary donations are inherently uncertain, which makes it difficult to rely on them for ongoing operational expenses" — and potential inequalities — "Park amenities may be targeted toward selective groups or areas rather than the entire community."
While public parks and private partners are still negotiating the norms for these partnerships, some feel certain that corporate logos don't have a place in parks. "National parks are places where the public's eyes can take a rest from advertising and enjoy the scenery and history. They need to stay that way," said Theresa Pierno, CEO of the National Parks Conservation Association.