Jan 14 2015

Mayor's Alliance for NYC Animals: a cohesive citywide partnership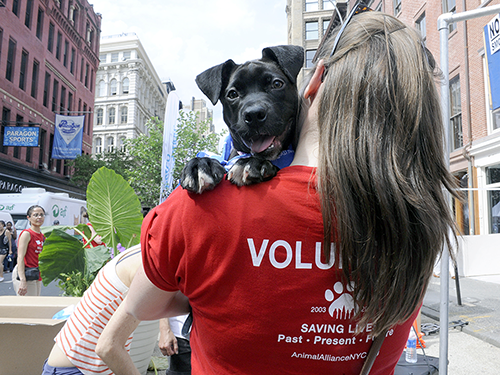 By the Mayor's Alliance for NYC's Animals
The Mayor's Alliance for NYC's Animals is a community collaboration of more than 150 partner rescue groups and shelters in the NYC and tri-state area, created with the mission to transform New York into a city where no dog or cat of reasonable health or temperament is killed simply because they do not have a home. We began our journey in 2003 with a simple, albeit lofty, goal: to coordinate existing animal welfare efforts within New York City, while drawing upon external resources, to create a cohesive city-wide partnership, with the mutual goal of saving the lives of NYC's homeless animals.
.@MayorsAlliance works across sectors to save NYC's homeless animals #xsector #TNR
Click To Tweet
Since our Intersector Project case study was published in early 2014, we have continued to make important strides on behalf of NYC's animals and the animal welfare community. Since 2002, animal euthanasia in New York City has been reduced by more than 81 percent. In 2003, when we began, only one out of every four animals who entered Animal Care and Control of NYC (AC&C) shelters was saved. Last year, we saved more than eight out of ten lives. And we are proud to report that in 2014 our collaboration achieved an unprecedented 80 percent live release rate from our city shelters.
As we begin 2015, we are focused on sustaining the vital progress that we as a community have achieved for NYC's animals. The Alliance's key programs and initiatives, which are highlighted below, remain critical to our dedicated community partners and to the thousands of "Little New Yorkers" we save each year.
Wheels of Hope
The Mayor's Alliance for NYC's Animals' fleet of six Wheels of Hope vans has transported more than 80,000 dogs, cats, rabbits, and other animals from Animal Care and Control of NYC facilities to rescue groups and animal shelters with the resources to find them new homes. Operating 365 days a year, the Wheels of Hope is the only animal transportation program in NYC that transports animals at no charge to the shelters and rescue groups that use the service, and the only program with the ability to transport dozens of animals at the same time. As a result, our partner organizations can rescue more animals and focus their energy and resources on finding homes for the ones they save. In 2014, the Wheels of Hope was honored for its life-saving capacity by AC&C at their second annual New York's Kindest Dinner and Awards.
Adoption Events
The Alliance presents several large adoption events each year, all with the common goal of finding homes for NYC's homeless dogs and cats. These highly anticipated events provide families and individuals with a convenient venue where they can meet hundreds of animals available for adoption from numerous shelters and rescue groups, all in a central location. In addition to our large scale events, many weekends throughout the year the Alliance's adoption van brings dogs and cats for adoption "to the people" in neighborhoods throughout New York City. We partner with more than 150 Alliance Participating Organizations (APOs), and many of our partner rescue groups without a shelter facility of their own rely on mega-adoption and mobile adoption events to find homes for the animals in their care. These events are critical to raising public awareness about the important role that adoptions play in saving lives. This year at our annual Maddie's Pet Adoption Days we had more than 5,500 adoptions in a single weekend!
New York City Feral Cat Initiative
The Alliance's New York City Feral Cat Initiative (NYCFCI) is committed to solving NYC's feral and stray community cat overpopulation crisis through the humane, non-lethal method of Trap-Neuter-Return (TNR). We provide services and resources to Certified TNR Caretakers in the NYC area, including free TNR certification workshops in all five boroughs. We also offer advice and information to the general public by phone and e-mail, and disseminate feline educational information via our website and printed materials. Supporting the efforts of feral cat caretakers, educating New Yorkers about TNR for feral cats, and promoting adoption for friendly cats living on the street will continue to play an important role in our success.