Sep 30 2015

Feeding Silicon Valley uses technology and partnerships to get excess food to California's hungry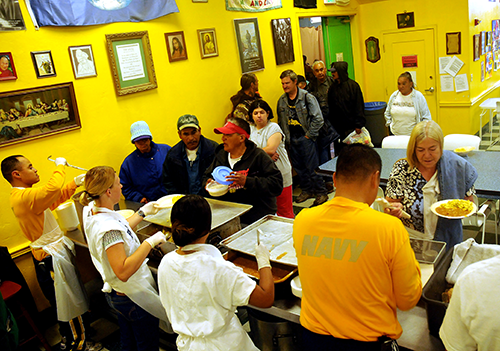 In California, one in six people struggle with hunger. Simultaneously, billions of pounds of usable food are wasted each year throughout the state. Feeding Silicon Valley, a new partnership led by the Silicon Valley Talent Partnership (SVTP) and involving partners from across the non-profit, government, and business sectors, is helping to forge connections to redirect the excess food to the people who most need it.
At the heart of the initiative is Waste No Food, a non-profit organization with a technology platform that connects local restaurants, corporate cafeterias, hotels, and other food-related businesses with qualified local soup kitchens, food pantries, and non-profits, allowing food that would typically go to waste to be distributed to underprivileged communities in the area. The creation of the app relied on the technical expertise of PayPal (which provided funding and engineers) and Appcelerator and Winwire Technologies (which refined the platform). "The Waste No Food app is actually the PayPal model applied to solve the problem of hunger," explained Varsha Shah, who led the team of PayPal engineers that originally developed the app, highlighting the importance of applying a business and technology model to solving a pressing social problem.
While the creation of the Waste No Food app involved some collaboration across the business and non-profit sectors, it needed more stakeholders with additional resources to make an impact on Silicon Valley's hunger problem. In a recent interview, Kiran Sridhar, the California teen who started Waste No Food, said, "In order to tackle really entrenched societal problems, you need to bring together people from many different diverse perspectives, and that's exactly what Silicon Valley Talent Partnership does. They bring together people from the private sector with non-profits and government officials."
"In order to tackle really entrenched societal problems, you need to bring together people from many different diverse perspectives."

According to Sridhar, it's the intersector collaboration facilitated by SVTP that has allowed Waste No Food to expand. SVTP introduced Waste No Food to the food industry donors who could use the app to indicate in real-time that they had excess food to donate, to the non-profits that could claim the food through the app, and to local government agencies, including the City of San Jose Homeless Response Team (HRT), which increased awareness of the partnership. Feeding Silicon Valley also relies on the issue-specific expertise of its cross-sector partners. For example, the initiative has worked with advisors from Team San Jose, one of the food donors, and Second Harvest Food Bank to develop organizational food safety policies.
In order to ensure that all partners involved in the collaboration are held accountable for their responsibilities, whether providing the promised food or properly transporting it, the app includes a rating system, where both non-profit and business partners are able to rate each other and make partnership decisions based on these reliability ratings.
The shared benefits of Feeding Silicon Valley are extensive and have gone beyond the primary goal of feeding California's hungry. Since it started, the initiative has had an associated environmental impact: More than 10,000 pounds of food donated to San Jose non-profits has resulted in the reduction of 7,590 pounds of CO2 emissions. The program also allows private sector partners to achieve their sustainability goals — Bon Appetit Management Company, for example, will be more likely to reach its goal of 80 percent of its accounts being Food Recovery Certified by the end of 2018. And the often resource-strapped non-profits have noticed other benefits from the collaboration as well: "Through our partnership with Waste No Food and Feeding Silicon Valley, the quality of food has increased, as well as the amount," explained Daniel Guhl, Director of Salvation Army at Emmanuel House. "One week, we received so many donations that we did not have to purchase any food. This allows us to direct our funds towards critical programs like case management."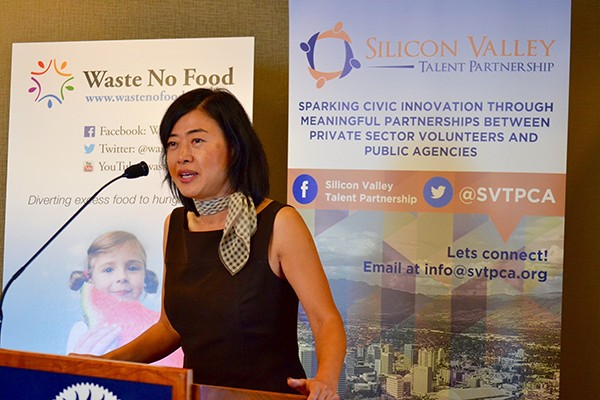 Feeding Silicon Valley has brought together cross-sector stakeholders, creating an efficient marketplace to distribute excess food to the individuals who need it most. With additional government support and collaboration with SVTP, and with the help of additional participating businesses and non-profits, there is the opportunity to scale this innovative initiative to reach even more of California's hungry. If you're interested in participating as a food donor, non-profit recipient, or volunteer food runner, sign up here.