Nov 25 2015

Data sharing partnership between City of Houston, Rice University shows early promise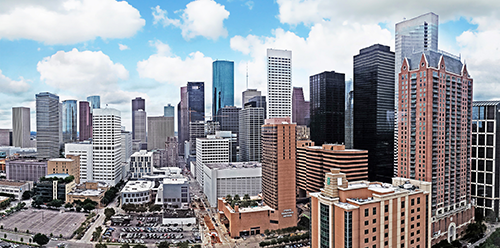 Earlier this fall we profiled a new White House initiative, the MetroLab Network, that aims to improve American cities through cross-sector partnerships involving data sharing and research collaborations between city governments and universities. MetroLab is part of the White House's Smart Cities Initiative, which helps local communities find solutions to problems ranging from traffic to crime to climate change. With an interest in the role universities can play in collaborations, we were encouraged to see a profile in Next City of the progress that's already been made in Houston as part of the initiative, with a collaboration between the City and Rice University.
The Houston collaboration is led by Rice University's Kinder Institute for Urban Research. The institute hired Klara Jelinkova, the former Chief Information Officer of the University of Chicago, to build a data platform for the initiative, incorporating data from university researchers and the City. According to Next City, cross-sector stakeholders will meet to determine from this data "what research questions are currently most important to the city" and what should be on the initiative's agenda going forward. "The incentives in academia are geared towards not being cross-disciplinary," explained Bill Fulton, Director of the Kinder Institute. "Professors focus on their own research in their own field. … But when you bring people together, you can open everyone's mind to what's possible to research." The collaborative nature of the initiative is unique in its focus on breaking down not only the silos between sectors, but also within institutions, like between researchers in different departments at Rice.
While sharing data to identify the most pressing issues facing Houston is a key element of the initiative, the collaboration will also focus on using this data to create solutions. Fulton aims to "find as many people on campus as possible working on things that could be applied to urban problems." One topic that the collaboration is examining is bicycle trends, with the possibility of installing bike share stations around Rice University's campus. The Next City article presents another example, with the linking of three data sets from public opinion surveys, the Houston Independent School District, and Texas Medical Center health data. The data holds potential for breakthroughs in understanding the connection between education and health, or absences and student performances, Fulton shared.
City-university partnerships hold the potential to drive powerful collaborations, as our case library shows. Consider the collaboration between the University of Texas School of Public Health and Brownsville, Texas, that was awarded the Robert Wood Johnson Foundation's Culture of Health Prize in 2013. (You can read more about the collaboration in our case study, Creating an Environment for Healthy Lifestyles In Brownsville.) City University of New York (CUNY) has been integral to the partnership that has created the innovative P-TECH in New York City. (You can read more about the collaboration in our case study, Preparing Students for STEM Jobs in New York City.) In these and the other examples found in our library, universities bring research capacity, convening power, legitimacy, and more to collaborations aimed at solving problems across a host of issue areas from education to health to energy efficiency.
Fulton describes Houston as "a great urban lab": "We have extreme issues of urban poverty, significant issues about how to provide basic municipal services across this vast city that is not very densely developed." Houston is proving to be another encouraging example of the power of cross-sector research and data sharing, with more examples sure to follow as other MetroLab cities implement their own unique city-university partnerships.