Dec 01 2014

Cross-sector partners fund new projects to improve stormwater management in Chi-Cal region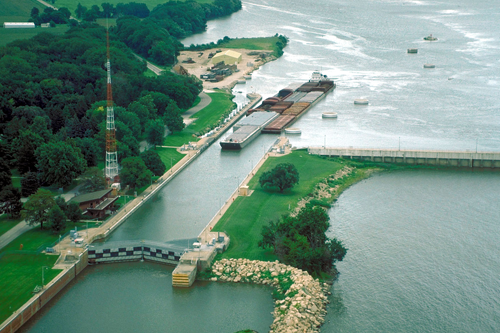 In the Chicago-Calumet region, a series of highly engineered waterways sits at the juncture of multiple sectors and stakeholders. Not only do these watersheds provide vital habitats to resident and migratory wildlife, they also move treated wastewater away from urban centers, help manage flood waters, and provide economically important conduits for commercial shipping, tourism, and recreational boating. While they provide critical services and benefits, these waterways have also been stressed by factors such as flooding, decreased water quality, and public access.
To care for this complex system, the cross-sector Chi-Cal Rivers Fund supports community-based projects through a competitive grants program. Last week, the Fund announced its second annual grant recipients — five regional projects selected to receive $1.1 million in funding. These community-led projects focus on increasing stormwater storage capacity through green infrastructure, enhancing fish and wildlife habitat, and improving public use opportunities. Recipients of the grants provide matching funding for a total on-the-ground impact of $3.6 million.
Partners from government, business, and non-profit sectors include the National Fish and Wildlife Foundation (which administers the program), leading steel and mining company ArcelorMittal, The Chicago Community Trust, Crown Family Philanthropies, the Gaylord and Dorothy Donnelley Foundation, Illinois Department of Natural Resources, the Joyce Foundation, Metropolitan Water Reclamation District of Greater Chicago, U.S. Fish and Wildlife Service, U.S. Forest Service, and the Wrigley Company Foundation.
The five grants announced last week go to public and non-profit organizations, most of which will work across sectors to implement their programs. The South Suburban Mayors and Managers Association, for example, will build six acres of wetlands while employing students who have graduated from technical environmental training programs and including a citizen engagement component. The City of Gary, Indiana, another grant recipient, will improve public stormwater infrastructure and also build a community rain garden, a school-based natural habitat exploration area, and neighborhood green spaces.
All told, the projects will collectively:
install more than 242,000 square feet of green stormwater infrastructure
add more than 2.9 million gallons of stormwater storage capacity
add 4 acres of new public park space
restore and enhance 178 acres of wetland and upland habitat
improve approximately 4,600 feet of in-stream and riparian habitat
This collaboration employs several tactics described in The Intersector Project Toolkit, notably Identify A Manger. This refers to the selection of an individual or organization that is responsible for coordinating tasks that allow the collaboration to progress. Establishing a single person, a body of managers, or an organization as a single point of accountability can ensure structure and instill confidence in the collaborative process. In this case, the National Fish and Wildlife Foundation, committed to sustaining, restoring and enhancing the nation's fish, wildlife, plants and habitats, acts as a manager for the partnership. NFWF manages similar partnership in other regions and has to date awarded more than 12,000 grants to more than 4,000 organizations.
The NFWF's work across the country and in Chicago-Calumet illustrates the power of cross-sector partnership as an approach to complex, systems-wide issues. "This remarkable collaboration" as Jeff Trandahl, Executive Director and CEO of NFWF has called the partnership, will hopefully inspire other practitioners to look for similar opportunities to partner and affect large-scale change.