Jul 07 2014

Collaborative emergency management program goes social, expanding reach
Case Study Update: "Creating a Culture of Disaster Preparedness in San Francisco" gains a new partner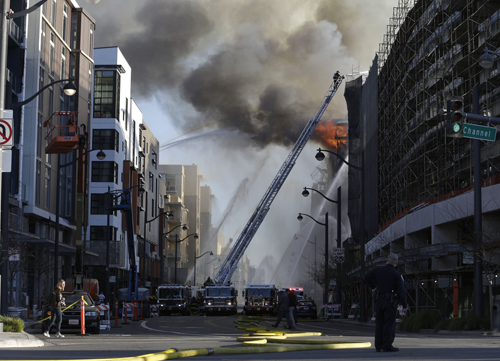 SF72.org, an innovative emergency preparedness program that The Intersector Project profiled in a case study earlier this year, has forged a first-of-its-kind social networking partnership to expand its reach. The original intersector collaboration that produced SF72 began with San Francisco's Department of Emergency Management, the design and innovation firm IDEO, and hundreds of businesses and non-profit organizations. Over a three-year period, these cross-sector partners developed a new model for communicating with the public in disaster situations in the seventy-two hours after a major emergency during which residents should be prepared to take care of themselves before help arrives.
This spring, the program announced a new partnership with Nextdoor – a social network through which neighborhood residents can communicate about issues ranging from lost pets to crime. The SF72-Nextdoor partnership withstood its first test during a March five-alarm fire that engulfed and ultimately brought down a six-story, 80-foot-tall building that was under construction. SF72 communicated alerts and updates to residents via Nextdoor throughout the event.
"We can actually share information within all of the neighborhoods within San Francisco, or we can geographically target neighborhoods if something is happening," Kristin Hogan, DEM's program manager, told Government Technology.
The partnership is a first for San Francisco and Nextdoor, and there is hope that similar partnerships will spring up around the country. As SF72.org aims to show community members how to tap into their existing networks, using tools they already have to support each other after an emergency, the partnership helps further the programs aims. Nextdoor provides a well-established network where conversation and exchange among residents is already happening. Their collaboration showcases how an already successful intersector collaboration can leverage the resources of a new partner to broaden its reach, engage residents, and, in this case, save lives.