Sep 28 2015

Business support creates STEM education opportunities for students in New York City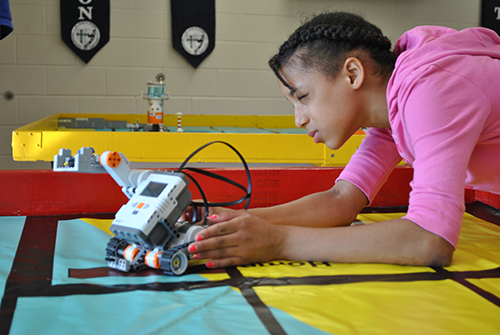 Tech jobs in New York City grew 57 percent from 2007 to 2014, resulting in what a recent press release identifies as a "gap between unfilled technology jobs and qualified homegrown talent." As Gabrielle Fialkoff, Director of New York City's Office of Strategic Partnerships, noted in a recent article, "I think there is acknowledgement that we need our students better prepared for these jobs and to address equity and diversity within the sector, as well."  To tackle this issue, businesses are stepping up to support programs that prepare students for jobs in computer science and software engineering.
With a strong stake in creating a STEM-educated workforce, along with financial resources that the government often lacks, businesses in the tech industry are offering financial support to STEM programs throughout the city. AT&T awarded a $1.6 million grant to the Department of Education supporting a pilot STEM program to be delivered in partnership with the NYC Fund for Public Schools and Microsoft is directing $2 million toward training 1,100 students at the NYU Polytechnic School of Engineering. The Tech Talent Pipeline, a $10 million public-private partnership created in 2014, is supported by several leading businesses in the tech industry, including LinkedIn, Verizon, Microsoft, and Google, along with philanthropic partners, including inaugural funders JP Morgan Chase, the NY Community Trust, and the NYC Workforce Funders. With its supporters, the Tech Talent Pipeline provides funding, leadership, and job opportunities to New Yorkers who have the potential to excel in computer science careers.
In addition to the businesses providing funding to these programs, several influential individuals in the tech industry are contributing their expertise to STEM initiatives. High-level tech executives, including Fred Wilson, Managing Partner at Union Square Ventures, Chris Hughes, Facebook co-founder and owner of The New Republic, and Melissa Shorenstein, AT&T New York President, have provided valuable advice to the Department of Education (DOE) on its STEM offerings. The caliber of the executives comprising the advisory board of the Tech Talent Pipeline is so high that their first meeting was referred to as a "who's who of Silicon Valley" and the "biggest collection yet of private tech sector influence since Bill de Blasio took over City Hall." The Tech Talent Pipeline is led by founding Director Kristen Titus, who formerly served as Executive Director of Girls Who Code, a national organization working to close the gender gap in technology and engineering.
"We see real opportunities to deliver for our businesses and our people, and today have come together with leaders across all sectors to realize this vision."

"We believe it takes a public-private partnership," Shorenstein explained in a recent interview, highlighting the need for private sector involvement in public sector efforts to equip students with the preparation necessary to secure and succeed in STEM jobs. Echoing the importance of cross-sector approaches, New York City Mayor Bill De Blasio said earlier this year,"We see real opportunities to deliver for our businesses and our people, and today have come together with leaders across all sectors to realize this vision." An impressive 3,000 New Yorkers are slated to benefit from industry commitments this year, according to a recent press release.
Both the "who's who of Silicon Valley" and De Blasio are powerful sponsors and champions for these cross-sector programs bringing STEM opportunities to New York City students. As described in The Intersector Project's Toolkit, Recruiting a Powerful Sponsor or Champion involves engaging well-respected, influential individuals or organizations in the collaboration that can provide access to resources, lend legitimacy and prestige, and attract public attention. For a detailed example of how a STEM collaboration leveraged sponsors and champions, read our blog on the Pathways in Technology Early College High School (P-TECH), a partnership between IBM, CUNY CityTech, and the DOE. You can learn more about P-TECH by reading our case study on the collaboration.