Jul 21 2014

Bayou District Foundation engages cross-sector partners to make neighborhood safer for residents
Guest Post by the Bayou District Foundation
Editor's Note: Earlier this year we published a case study profiling an intersector collaboration among non-profit organizations, business, government, and residents that drove the construction of a mixed-income housing development in New Orleans that has dramatically reduced crime in the neighborhood. Below, the Bayou District Foundation (BDF) provides an update on their continued efforts in community engagement and cross-sector collaboration.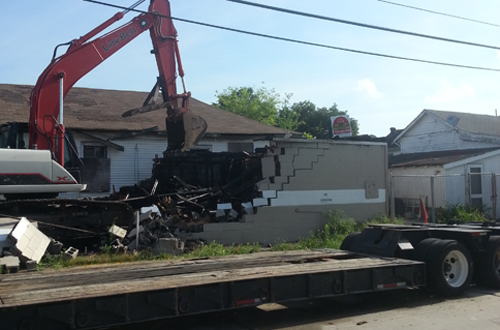 On August 13, 2011 a man was shot and killed at PJ's Bar, just two blocks from one of the largest urban transformation projects in the United States — the highly-successful mixed-income housing development, Columbia Parc at Bayou District. Once one of New Orleans' most dangerous, the neighborhood had become a model of a thriving, affordable, safe community through a collaboration among residents, corporate partners, non-profit organizations, and the government. But in the wake of the shooting, a wave of violence plagued PJ's Bar. As Columbia Park continued its dramatic renewal, the uptick in violence effectively shut off resident access to the neighborhood recreation center — just across the street from the bar — and strangled development of homes and businesses in the area.
At Bayou District Foundation, we wanted to help residents search for ways to tackle the mounting violence south of Columbia Parc. First, we stepped in to meet a critical community need and financed after school programming and additional support services in the neighborhood. We enlisted a broad array of cross-sector partners, first speaking to residents and community leaders and discovering that the bar had been a gathering spot for "a hard crowd" for many years before Hurricane Katrina. We also engaged public sector partners, incuding the City Alcohol Beverage Control Board and the City Attorney's office. City Councilmember Cynthia Hedge-Morrell, in whose district Columbia Parc lies, brokered an effort to move the bar to a more commercial area. When that attempt failed, we continued to push the issue along with community stakeholders, convening meetings with several community and religious leaders, including the St. Bernard Area Community Council. Meanwhile, Rev. Lionel Davis led a anti-violence march in April 2012, and Rev. K.G. Thibodeaux, Rev. Ross Matthew Johnson, Jr.. Dr. Elliot Willard penned a letter about the bar to the State of Louisiana Alcohol & Tobacco Control in early November 2012. State Representative Jared Brossett sent a similar letter expressing deep concern, sparking a State ATC investigation of PJ's.
As our initiatives were in full force, there was another murder at PJ's in early 2013. We contacted Project NOLA, a private crime camera initiative, to enlist their help, and after a meeting with the bar owner and neighborhood residents, PJ's agreed to install a Project NOLA crime camera. Soon after the camera was installed in October 2013, a still-unknown perpetrator set fire to the bar.
Although the bar was largely destroyed, the owners put the property on the market with its valuable commercial zoning and licensing in place. Rather than take the chance that the bar would return to commerce, Bayou District Foundation purchased the property in April 2014 and had it demolished shortly after. Several neighbors came to watch as the bar was torn to the ground. One approached Mike Rodrigue, a member of Bayou District Foundation's Board of Directors, and asked what would replace the bar. Mike replied, "Well, I think we're going to build a nice house there." The neighbor hugged Mike.
For more information about Bayou District Foundation, visit http://www.bayoudistrictfoundation.org/.