Nov 06 2015

100,000 Opportunities Initiative works across sectors to connect youth with job opportunities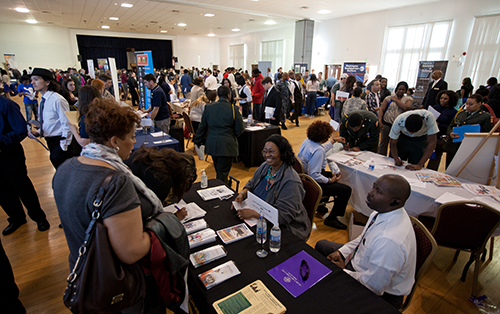 5.6 million young Americans between the ages of 16 and 24 are considered opportunity (or disconnected) youth, meaning they are out of school, but not working. Simultaneously, there are 3.5 million unfilled jobs in the United States, many of them middle-skill jobs that do not require a four-year degree. At the intersection of these two issues is the 100,000 Opportunities Initiative, an employer-led collaborative effort launched in July 2015 to train and hire 100,000 opportunity youth by 2018.
The Initiative is led by several U.S.-based companies, including Target, Starbucks, Microsoft, and FedEx, who have a stake in filling these middle-skill jobs. While private-sector-led,  the Initiative relies on cross-sector collective impact efforts that will "generate greater access to employment opportunities for young adults who are too often on the wrong side of the opportunity divide, including boys and men of color, immigrant youth, and young people aging out of the child welfare system," according to the website of the Aspen Institute Forum for Community Solutions, who is managing the coalition along with FSG. Foundation support proves vital for scaling the Initiative across the country and public sector support helps create local buy-in for the program.
One area that struggles with a high number of disconnected youth is Phoenix/Maricopa County, where the unemployment rate for this age group is 20 percent. According to a recent article on the Initiative, only 55 percent of individuals in this age group are enrolled in school, the lowest of any of the 25 major metro areas in the country. The business executives leading the Initiative recently entered into a three-year partnership with the City of Phoenix, other County leaders, Arizona State University, and the Maricopa Community Colleges. Non-profits also served an important role, providing funding (like The Arizona Community Foundation), volunteers, and referring affected youth to the program.
"Our city is seeing a small but powerful groundswell of civic, community, and elected leaders that are working hard to give youth in Phoenix the type of meaningful job and educational opportunities they deserve."

On October 30, 1,700 youth gathered in Phoenix for a job fair hosted by the Initiative, which provided job interviews, career resources, resume development, and mentoring for the youth, with 25 of the coalition's companies present. "Our city is seeing a small but powerful groundswell of civic, community, and elected leaders that are working hard to give youth in Phoenix the type of meaningful job and educational opportunities they deserve," explained Phoenix Mayor Greg Stanton. "The business leadership of the 100,000 Opportunities Initiative will help take our city's efforts to even greater heights and bring more attention to the magnitude of this issue and its impact on the rest of the country."
While ASU played many key roles in the Initiative's work in Phoenix, including providing volunteers and mentoring at the job fair, they also led research that helped the intersector collaboration Build a Common Fact Base. Building a common fact base refers to determining what facts are relevant to the issue at hand and coming to a consensus on what "the problem" really is. Research conducted by ASU's Morrison Institute for Public Policy found that America's 5.6 million opportunity youth have a potential taxpayer burden of $1.56 trillion and an aggregate social burden of $4.75 trillion if they stay unemployed. These facts validated the work of the coalition and framed the issue in a way that affects individuals across sectors, not just the businesses who stand to benefit from filling middle-skill jobs.
As a national campaign with local initiatives, the program requires a high level of coordination within and across sectors. Members of the coalition commit to convene regularly "to share best practices and key strategies" and to track and report data. With programs up and running in Chicago and Phoenix, and plans to scale the program nationally, this commitment to data sharing and convening will prove to be increasingly important, with more and more stakeholders joining the effort.
For a profile of another collective impact initiative helping disconnected youth become self sufficient, see our piece on the Maine Youth Transition Coalition.