Dec 29 2014

Evaluating cross-sector resources with "Where's My Bus?"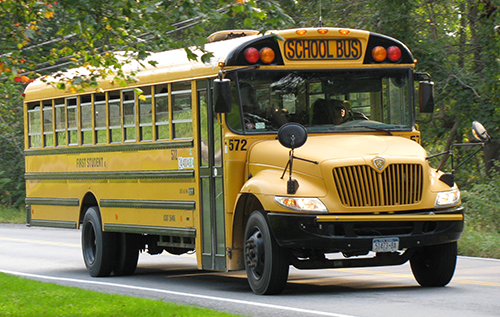 In the winter of 2010, snowstorms in Boston resulted in adverse road conditions and traffic delays, leaving parents worried about their children riding home on public school buses. During the blizzards, Chris Osgood, co-chair of the Mayor's Office of New Urban Mechanics (MONUM), was at the Boston Public Schools Call Center relaying the GPS locations of school buses to concerned parents. Chris and his colleagues soon realized that allowing parents and caretakers to view this information on a smartphone or computer would be a key improvement to the system, especially in critical weather situations.
A year after the precipitating snowstorm, MONUM — which pilots experiments in the areas of civic engagement, education, and improved service delivery in Boston, using cross-sector collaboration to solve issues within cities — partnered with Code for America, a non-profit of civic minded developers, to work on a series of projects, including an app called "Where's My School Bus?" In partnership with Boston Public Schools, the GPS Provider Zonar, and Code for America (and later, Vermonster), MONUM created a free app that delivered needed information to parents in a safe and expedited way.
Today, "Where's My School Bus?" provides Boston parents with real-time public school bus locations of their children, and city officials report that the app is used by parents 1,000 times a day.
Read The Intersector Project's complete case study on the Where's My Bus app, "Providing Public School Bus Information to Parents in Boston."
Account for Resources
Each project developed by MONUM includes three different participants from different sectors with specific resources; an expert providing critical data, a project manager (MONUM), and a group contributing specialized skills.
This practice illuminates a collaborative tactic The Intersector Project Toolkit refers to as Account for Resources — the determination of financial and non-financial resources from existing and potential partners, a process that allows partners to plan how their expertise, networks, and assets can be best utilized in the collaboration and to determine what additional resources may be needed.
In "Where's My School Bus?" Boston Public Schools (BPS) took on the role of expert, as it possessed key data related to parents' main concerns, the access to the GPS feed of the school buses, and information about how school buses actually work. The transportation department of BPS (using Zonar's GPS data and software) provided the critical transportation data needed for the app to be developed. MONUM connected with Zonar through BPS, and Zonar was enthusiastic about delivering this product. The team at MONUM also included Chris' co-chair Nigel Jacob and Dana Conroy (previously Advisor to the Mayor City of Boston). Code for America fellows Scott Silverman, Joel Mahoney, Karla Marcedo and Talin Salway provided specialized skills in the form of app development.
The Intersector Result
The Mayor's Office of New Urban Mechanics worked with the Code for America fellows for six to seven months developing "Where's My School Bus?," at which point Boston Public Schools and MONUM launched a beta version of the app to three sets of parents group. After receiving positive feedback from the first year of testing with three groups of parents, MONUM and BPS partnered with local development firm Vermonster to launch the citywide version of the app.
More than 1,000 uses of the app per day have been reported.
Vermonster has designed a mobile friendly front end, which allows for more users of the app.
Zonar has released ZPass+, its own version of the app, which is now being used in several other school districts.
Chris Osgood reports that the WMSB team has repeatedly seen indicators of increased parent satisfaction (e.g. comments and tweets), regardless of whether the school buses are more timely or not.