Nov 12 2020

Research Briefing, May/June 2020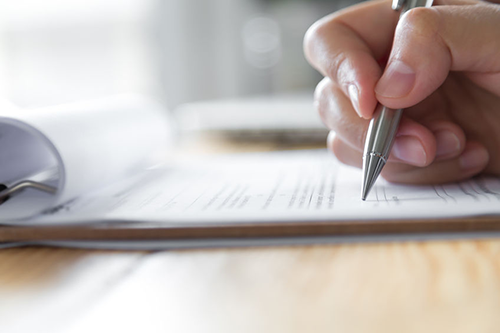 Each month, there is new, fascinating research emerging that provides practical insight into how the government, business, and non-profit sectors partner to address society's most pressing problems. To keep our readers up to date on this work, which comes from a variety of academic and non-academic sources, we compile a bimonthly briefing and publish it on our blog — for researchers who want to stay up to date on progress in the field of cross-sector collaboration and practitioners who are interested in how this research may be applicable to their work.
This briefing includes articles about:
organizational structures in sustainability partnerships,
cross-sector data sharing in health care,
cross-sector partnerships for inclusive technology,
cross-sector alliances in the global refugee crisis, and
the challenges of impact bonds in a pandemic.
---
"Sustainability Cross-sector Partnerships: The Strategic Role of Organizational Structures," Corporate Social Responsibility and Environmental Management, Eduardo Ordonez‐Ponce and Amelia Clarke
Abstract: "Organizations partner for strategic reasons and sustainability is a strategic opportunity. However, organizations' strategic engagement in sustainability partnerships has been mainly qualitatively studied. This research aims to determine if structures, a key component of the strategy, are implemented within organizations when joining sustainability partnerships, whether organizational structures mediate between goals and outcomes achieved from partnering, if highly structured organizations achieve highly valued outcomes, and if organizational structures differ according to the sector. Data from 224 organizations from the public, civil society, and private sectors partnering in large cross-sector partnerships for the sustainability of four cities were collected and quantitatively analyzed finding that structures are implemented by organizations when partnering for sustainability, that is, sustainability partnerships are strategic; structures do not mediate between goals and outcomes; being highly structured is not enough for accomplishing valuable outcomes; and informal structural features are the most implemented by organizations, with public sector organizations differing from other sectors."
---
"Data Across Sectors For Health Initiative: Promoting A Culture Of Health Through Cross-sector Data Networks," Mathematica, So O'Neil, Emily Hoe, Eva Ward, Colleen Staatz, and Ravi Goyal
Abstract: "Sharing data across social sectors is vital to identifying the diverse drivers of health, including education, income, race, and other social and structural constructs that perpetuate health inequities. Data Across Sectors for Health (DASH), an initiative of the Robert Wood Johnson Foundation (RWJF), supports data sharing across health care, public health, and other social sectors. Specifically, the initiative provides resources and support to collaboratives of community organizations to enhance data sharing across sectors through All In: Data for Community Health, an online platform with curated tools, virtual workshops, and other forums to promote learning and peer interaction.
To assess the contributions of DASH's strategy on cross-sector data sharing, an evaluation using data from October 2018 to February 2020 examined the All In community collaborative's progress. In addition to learning about the 193 collaboratives participating in All In, the evaluation examined in depth implementation and outcomes in 21 case study communities. The evaluation assessed collaboratives along three dimensions: (1) readiness of information and technology systems to share data among organizations in different sectors, (2) organizational and technological capacity to use and process data from other sectors, and (3) use of cross-sector data. Measures in these three dimensions came from emerging frameworks for sharing data among social sector organizations (Basker and Spinks 2016; Center for Data Science and Public Policy 2016)."
---
"How Governments, Nonprofits, and the Private Sector Can Help Technology Work for Everyone," Urban Institute, Madeline Brown and Richard Ezike
Abstract: "The pandemic has forced an unprecedented reliance on digital services and innovation as many Americans work and learn from home and shop online. Most Americans say the internet has been an essential resource during the COVID-19 outbreak. But in 92 cities in 2018, at least one in five households had no broadband internet of any type, including cellular data plans. Low-income households and people of color are less likely than white people to have broadband and mobile access.
Technology will play a key role in recovery and a post-COVID-19 world. But for it to contribute to the development of truly equitable and inclusive communities, the public, private, and nonprofit sectors must all have a seat at the table. During 'The Equity Imperative,' an online forum the Urban Institute hosted this month, experts shared what each sector can do right now to ensure technology helps reimagine communities, rather than exacerbate existing systemic racial and socioeconomic biases."
---
"Cross-sector Alliances in the Global Refugee Crisis: An Institutional Theory Approach," Business Ethics: A European Review, Aimei Yang, Wenlin Liu, and Rong Wang
Abstract: "The global refugee crisis has posed severe challenges to social stability and sustainable development around the world. While the business sector is expected to shoulder social responsibility in crisis relief efforts, our initial assessment shows that refugee-related corporate social responsibility (CSR) significantly diverged across the Global Fortune 500 corporations. To advance scholars and managers' understanding of this complex CSR issue, this study draws upon National Business System Theory to explore how country‐level factors influence the multinational corporations' CSR communication about the refugee issue. Specifically, the study focuses on the strategic cross-sector alliances between corporations, NGOs, and IGOs. The analysis shows that in this controversial global crisis, the following factors of corporations' countries-of-origin can significantly affect the level of cross-sector CSR alliances: democracy levels, economic inequality levels, and unemployment rates. Findings of this study provide practical guidelines that can help managers to anticipate societal expectations when dealing with controversial social issues in an international setting. Our findings could also assist policymakers, NGOs, and IGOs to better design strategies to mobilize the corporate resources."
---
"What Happens in an Outcome-Based Financing Model When a Major Crisis Hits?," The Brookings Institution, Emily Gustafsson-Wright
Abstract: "With over 5 million recorded cases of COVID-19 across the globe and cases rising exponentially in many regions, the impacts of the pandemic are reverberating across sectors. While governments have put in place measures to ensure the health and well-being of the populations they serve, the nature of the virus and the measures being implemented to protect the population have meant unprecedented disruptions in economic activity and dramatic shifts in the delivery of critical social services around the world.
In this policy brief, I explore the impact of the pandemic on social services that are funded through impact bonds, an innovative outcome-based financing mechanism in which investors provide up-front capital to service providers, with the potential for a return if selected outcomes are achieved."
---

Other recently released research on cross-sector collaboration: