Aug 13 2014

Philadelphia's new Innovation Lab fosters collaboration across sectors
Lab will "bring the spirit of startups inside city government"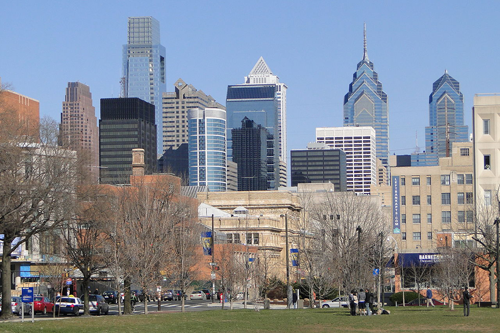 This month Philadelphia opened the doors to its new Innovation Lab — a collaborative coworking space where city employees can join with partners across sectors to tackle complex issues. When successful, initiatives like the Innovation Lab hold the promise of encouraging future collaborations, as practitioners across sectors gain experience working with one another and grow to understand the resources, expertise, and networks that each sector can bring to the table.
Philadelphia's Innovation Lab operates in the Municipal Services Building, near City Hall. Mayor Michael Nutter's goal is for the lab to provide a space for city employees to innovate and problem solve alongside members of the city's tech sector and other "community partners and other non-city stakeholders." According to the lab's new website, external participants might include local technology start-ups, representatives from the open data community, local non-profit organizations, and advocates for technology access. The lab is part of a broader citywide effort to encourage innovation that includes sending its employees to "Innovation Academy" and a $100,000 fund to back public-private projects.
Work in the lab will be devoted to changing topics for 90-day sessions, including issues of health, safety, community revitalization, and more. The purpose is to engage a broad array of partners, "a different audience [to] solve different problems," Chief Innovation Officer Adel Ebeid has told Government Technology. Programming envisioned for the space includes topical research modules in areas such as Geographic Information Systems (GIS) and spatial analysis, health IT, economic development, and arts & culture. The lab is also intended to be used as a training room and test site for new technology, processes, and programs to facilitate innovative thinking and civic collaboration and engagement. "The lab will bring the spirit of startups inside of city government," Ebeid said. "The goal is to create a culture of innovation, to sustain it and grow it long term."
Philadelphia's Innovation Lab creates a space where partners can practice working collaboratively, "where City employees and external stakeholders can meet to think creatively and generate solutions to the City's most pressing problems." For those dedicated to advancing cross-sector collaboration, the hope is that practitioners working together in the lab will develop an increased understanding of the skills, resources, and networks that lie outside their sectors, laying the groundwork for potential cross-sector collaborations that will benefit Philadelphia. While the city's Innovation Lab is meant to foster collaboration within its walls, when practitioners grow in understanding of cross-sector partners, it may set the course for future collaborations outside those walls, too.