Aug 16 2016

NYC Soccer Initiative brings public, private resources to underserved youth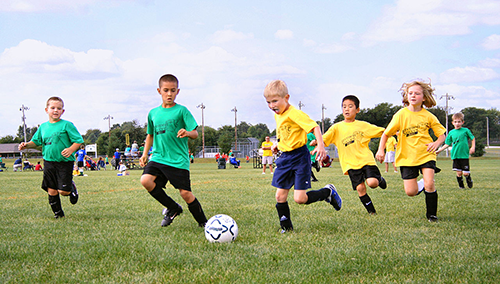 Physical activity, particularly team sport, is known is to have a range of physical, cognitive, social, and emotional benefits for young people. Yet physical activity among U.S. youth appears to be declining — with the most significant gaps in activity level appearing in children from low-income families, according to Aspen Institute's 2016 State of Play report.
A new public-private partnership is working to close this gap in New York City by building and maintaining 50 soccer fields in underserved neighborhoods. The partnership brings together Mayor Bill de Blasio and the Mayor's Fund to Advance NYC, the U.S. Soccer Foundation, the New York City Football Club, and adidas. The partners will invest $3 million in total in the project — funds that will enable not only development of the fields but also free programing for children focused on health and activity, including after-school soccer and mentoring programs, soccer clinics, festivals, and youth summits, according to recent coverage of the partnership.
"By pooling public and private resources and expertise to implement creative solutions that address our toughest challenges, the New York City Soccer Initiative is improving the lives of New Yorkers," said Gabrielle Fialkoff, Senior Advisor to the Mayor and Director of the Mayor's Office of Strategic Partnerships.
The partnership is not only about soccer but also about creating opportunities for underserved youth in New York City to connect to mentors through activity and programing. "With this partnership, we are tackling inequalities in all its forms — including in our parks and outdoor spaces," said Mayor Bill de Blasio. "In the city of immigrants, with so many different languages and cultures, the New York City Soccer Initiative will be one of the great tools we use to unify young New Yorkers."
The new partnership will build from the models and successes of the U.S. Soccer Foundation's Soccer for Success program and New York City Football Club's Healthy Hat-Trick program — initiatives that, together, have served more than 15,000 young people with impressive results:
73 percent of young people in these programs said the programs helped them to make healthier food choices.
83 percent said it helped to improve their confidence.
70 percent have said they now enjoy going to school more.

The first eight sites for the new program include:
J.H.S. 166 George Gershwin, Brooklyn
Cypress Hills Houses, Brooklyn
Irwin Altman Middle School 172, Queens
South Jamaica Houses, Queens
Millbrook Playground, Bronx
Eagle Academy For Young Men Of Staten Island, Staten Island
Harlem Lane Playground, Manhattan
P.S. 083 Luis Munoz Rivera, Manhattan

Not only will the new fields create more opportunities for young people to engage in sport, they will also repurpose underutilized spaces throughout New York's five boroughs, creating safe public spaces in these communities. Retrofitting Homes for Energy Efficiency in Portland provides another example of a cross-sector collaboration that brought benefits to multiple segments of a community — in this case, enabling residents to undertake environmentally-friendly energy retrofits to their homes while also adding high-quality jobs to the economy.