Mar 12 2019

New Research on Cross-Sector Collaboration: Annual Review of Social Partnerships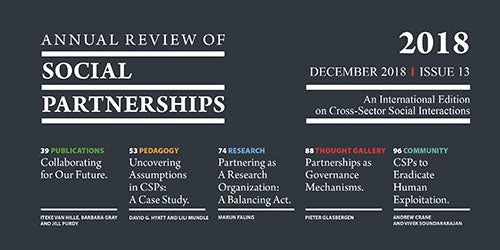 The Annual Review of Social Partnerships' recent issue includes research, interviews, and commentary on government, business, and non-profit sector collaboration. The ARSP is written by and for scholars and practitioners focusing on cross-sector social partnerships (CSPs) as the key to solving social problems such as climate change, economic inequality, poverty, biodiversity loss, and more. Features in this issue include:

A review of more than 120 publications on CSPs from 2017/2018, highlighting a growing scholarly focus on better understanding how CSPs and the involved organizations can contribute to grand challenges, such as those addressed by the Sustainable Development Goals.
A collection and discussion of pedagogical tools on dealing with assumptions in CSP pedagogy and practice. ARSP presents a portfolio of personal accounts and suggestions around dealing with assumptions, a related case study for teaching and practice, a practitioner interview, and a teaching innovation to uncover assumptions based on The LEGO® SERIOUS PLAY® Method.
A compilation of recent insights into CSP research, for example, with respect to meta-governance of CSPs and the challenges of a large collaborative research program on climate change, agriculture and food security. There are findings about Proudly Made in Africa and its partnerships from a research perspective, as well as about the role of academic research according to the Head of the Private Sector Team at Oxfam GB.
A thought piece by Prof. Pieter Glasbergen on partnerships as governance mechanisms for sustainable change.
Insights and community views into the challenges and opportunities of CSPs as an alternative to address human exploitation in businesses, including academic and practitioner interviews and a discussion of the role of big data in bringing actors together and causing new challenges.

Read the full ARSP issue here.
ASRP issues 7-13 are available here.