Feb 04 2015

Intersector Project Toolkit highlighted as resource for collaboration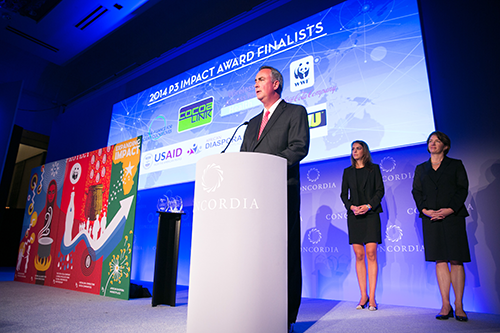 The U.S. State Department's Office of Global Partnerships, Concordia, and the Institute for Business in Society at the University of Virginia yesterday announced the launch of the 2015 P3 Impact Award. Created in 2014, the award seeks to "to recognize the leading public-private partnerships that exist around the world…[and] to highlight best practices and showcase aspects of partnership that can be duplicated" said Andrew O' Brien, Special Representative for Global Partnerships at the Department of State, during a Google Hangout hosted by the three partners. "We like to think that our finalists and our award winners serve as inspiration for other partnerships, other partners who want to work around the world on education, global health, climate change, and any number of other things."
Appearing with O'Brien to discuss the application process were Natalie Pregibon, Director of Research at Concordia, and Mary Margaret Frank, Academic Director of Institute for Business and Society and Associate Professor of Business Administration at UVA.
Users were invited to pose questions to the trio during the Google Hangout, and we were thrilled when Frank mentioned The Intersector Project in response to one viewer's question: "Do you offer any resources or tools to emerging or new public-private partnerships?"
Frank — a new friend of The Intersector Project, whom we met during our "P3 Toolkit in Action" workshop at the 2014 Concordia Summit — responded that the first resource that came to mind was "from a group that I met when I was at Concordia. I'll make a shameless plug for the Concordia Summit in that it's a great way to network and connect with people who are interested and engaged in this issue. I met a group called the Intersector Project, and they had developed a toolkit for thinking about, How do you engage in public-private partnerships? They are on the web; you can Google 'The Intersector Project,' and engage in that, and that might be someplace for you to start."
To put it simply — We agree! Our Tooolkit for Intersector Collaboration, based on the latest literature on cross-sector collaboration and extensive interviews with practitioners, is an excellent place to start. Our case study library is a second resource that illuminates the ways practitioners across the United States have used collaborative tactics to lead successful collaborations in a wide range of issue areas from community revitalization to environment.
A big thank you from us to Frank for bringing light to our resources; to Pregibon and Concordia, longtime friends of The Intersector Project; and to the Office of Global Partnerships for leading this effort to award stellar examples of collaboration across the world.