Mar 06 2015

The Intersector Project heads to Chicago for ASPA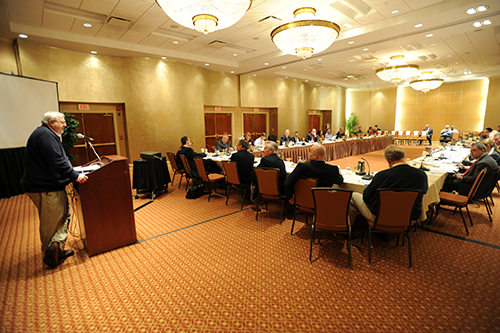 Our Executive Director Neil Britto and our Communications Director Jacquelyn Wax are en route to Chicago this weekend to join in the annual conference of the American Society for Public Administration (ASPA).
Neil and Jacquelyn will be presenting a practitioners' workshop on Tuesday, March 10, related to The Intersector Project's Toolkit for Cross-Sector Collaboration and will be attending presentations and workshops related to cross-sector collaboration in the days before. (More on the workshop to come next week on the blog.)
Here are the highlights of their ASPA schedule, which show just how many panels, presentations, and workshops are devoted to collaboration and collaboration-related research this year.
In Building Smarter Government: Innovative Technologies and Organizational Change, Improving Government Technology Management Through Shared Services, and Big Data and its Implications for Local Management Neil and Jacquelyn  will learn about how governments are leveraging new technologies and organizational change strategies to engage cross-sector partners and citizens.
In Beyond the Town Hall: Engaging Broad Audiences of Citizens they're excited to hear from Matt Leighninger of the Deliberative Democracy Consortium.
In Understanding Employee and Organizational Survival: The Impact of Collaboration, Policy Change and Personnel Practices they'll learn about leadership in collaborative governance structures.
In Public Administration Education and Training: Are We Teaching Our Students What They Need to Know Now and What They Will Need to Know 15 Years from Now Public Service Values in a Difficult Time, Neil and Jacquelyn  are eager to discuss whether training in cross-sector collaboration is on the agenda.
In Advances in Research and Practice in Collaborative Governance they're excited to hear researchers articulate a typology for collaborative governance regimes and to discuss the legal framework for collaborative governance.
In Exploring the Value of Public Value Parts 1 and 2, they're hoping to develop a firmer grasp of what public value is and what the unique contributions of each sector to public value can be.
In Nonprofit Organizations, Collaborations and Complexities, as well as Public Service Delivery and the Private and Non-Governmental Sectors Neil and Jacquelyn are excited to hear about emerging trends in research around cross-sector collaboration.
Neil and Jacquelyn will be tweeting from ASPA with updates on cross-sector collaboration and collaborative governance. Be sure to follow @theintersector, #intersector, and #ASPA15, and look for additional blog coverage to come on Monday and Wednesday.