Sep 24 2014

Intersector Project Announces Website Relaunch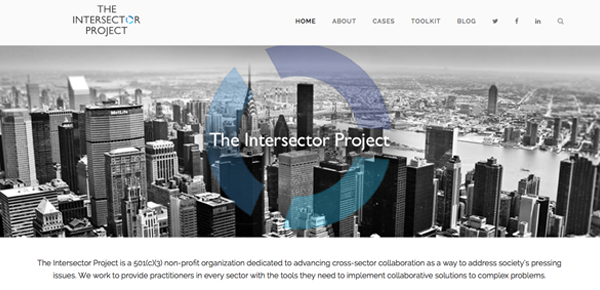 The Intersector Project is excited to announce a relaunch of our website, designed to allow users to more easily navigate our leading Case Study Library, Toolkit for Intersector Collaboration, and Intersector Insights Blog.
The site relaunch is key to The Intersector Project's ongoing efforts to provide practitioners in every sector with the tools they need to implement collaborative solutions to society's complex problems.
The new test-intersector.pantheonsite.io includes an updated Case Study Library, which profiles 40 examples of successful intersector collaborations from around the United States. Users can now easily sort and access these cases by issue area and download examples for their own use. One of the country's leading libraries on U.S. cross-sector collaborations, our case studies profile leadership and tactics from successful collaborations in a variety of issue areas, including community revitalization, health and wellbeing, infrastructure, education, and environmental conservation.
The new site also includes an expanded Toolkit for Intersector Collaboration with questions to guide practitioners in their use of each tool and examples of each tool in action. Created for practitioners from every sector, The Intersector Project's Toolkit is a guide whose goal is to enable leaders to design and implement successful intersector solutions.
The relaunched test-intersector.pantheonsite.io also includes an updated blog, Intersector Insights, where we investigate and provide insights into intersector collaborations around the country; and a Newsroom, where readers can access our latest publications, learn about our upcoming events, and get in touch for media inquiries.