Oct 29 2014

Intersector collaboration in Ohio works to improve coordination in disasters
Information sharing is key to OP3's Efforts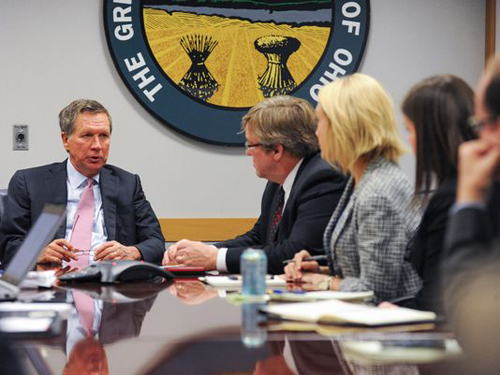 Officials in Ohio are looking to expand the state's OP3 program  (Ohio Public Private Partnership), an initiative that encourages information sharing and coordinated action among government, business, and citizens in disaster situations.
OP3 was formed in the summer of 2012 after a series of summer storms left hundreds of residents without electricity, illuminating the need for greater coordination and collaboration among agencies, business, and citizens groups. The initiative has continued to grow, and, at its fall conference last week, officials sounded the call for additional partnerships. The program now includes nearly 90 businesses, government agencies, and associations, including a half-dozen business associations and a variety of retailers, hospitals, insurers, communications companies, restaurants, banks and manufacturers.
Like many disaster response initiatives (including SF72 and VOAD, both of which are profiled on our blog), OP3 relies on what it calls "strong partnerships" across sectors to break down barriers to information exchange and improve outcomes during emergencies.
Ohio Department of Public Safety Director John Born spoke at last week's conference about a recent case in which these partnerships helped supply extra water to the Toledo area in August when toxins produced by algae in Lake Erie fouled the tap water for 400,000 people. Also at the conference, Kimberly Philips of FEMA, spoke about the importance of private sector engagement in disasters, stressing "effective support to private sector stakeholders through credible, reliable, and meaningful two-way communication."
The OP3 collaboration highlights the importance of a tactic The Intersector Project Toolkit refers to as Commit to Information Sharing, the requirement that collaboration partners share data relevant to the collaboration's efforts. Openly sharing information, including disclosing sensitive facts, gives collaboration partners a more comprehensive understanding of the issue and builds trust among partners and in the collaborative process.
In the case of OP3, not only does this exchange allow the state to better manage resources and responses in disaster, it also contributes to cross-sector understanding as partners learn more about each other's operational needs and capabilities