Jun 16 2014

Cross-sector Collaboration and Community Colleges
Guest Post by Will Arvelo, President of Great Bay Community College
Editor's Note: Will Arvelo, profiled in "Creating a Technical Training Program in New Hampshire," used intersector collaboration to support the goals of education providers, private sector employers, and the public sector. The case study illustrates how education and employment preparation can benefit from collaboration across sectors.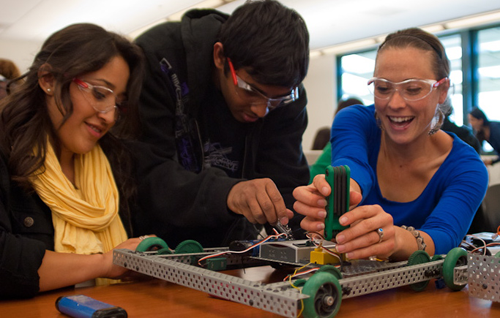 As the President of Great Bay Community College (GBCC) in New Hampshire, and as I look out on the national landscape of community colleges and public education, I know that educational institutions are challenged in many different ways. While there is significant public and community support for community colleges, there are limitations we face based on funding; particularly in New Hampshire, where there is no state income tax, and where public education is only one piece of the funding pie.
I knew GBCC could not operate to the best of our ability if we just depended on students for tuition and a general operations budget from the state; we don't have the resources to be able to do everything we need to be able to do. In order for us to accomplish all our missions, we found that we had to engage with other sectors. We put ourselves in a position where we could adopt a collaborative way of working to reach our goals. Collaboration across sectors has allowed us to create a technical training program at GBCC that has been a great success. Because of this success, we are now a partner in the economic development agenda for the region.
In order to collaborate with other sectors, it was important for us all to be at the same table, particularly when we're going to align curriculum to meet the needs of industry. One of the things that I've always said to businesses and industries is that we'd love to work with them, but they need to be a "partner". Being at the same table is the only way for us to put programs in place that are going to meet the needs of businesses, the needs of our students, and sustain the project over time.
GBCC had to make sure that businesses and the general community understood the critical importance of the community colleges in getting students prepared for the workforce. We had to learn what the local industries were and what they needed from a trained workforce. It's important to have the economic development people at the table too. We need the legislatures and the governor's office – together, they all play a critical role in how we can accomplish our mission.
The Advanced Technology & Academic Center (ATAC) at Great Bay Community College came about through collaboration between GBCC, Safran USA, Albany Engineered Composites, and a number of New Hampshire offices including the Governor's Office, the state legislature, the Department of Resources and Economic Development, and the City of Rochester. ATAC has recently graduated the second cohort of students, and will be starting its fifth cohort of students next month. Graduates have gone on to work for both Safran and Albany, as well as other companies and production facilities in the area. In 2016 and 2017, the Center will train 200 students per year for the two companies. We at GBCC continue to meet with our partners weekly and monthly to continue to improve our collaborative process.