Jan 23 2015

Enough SAID: Collaborating for justice in Detroit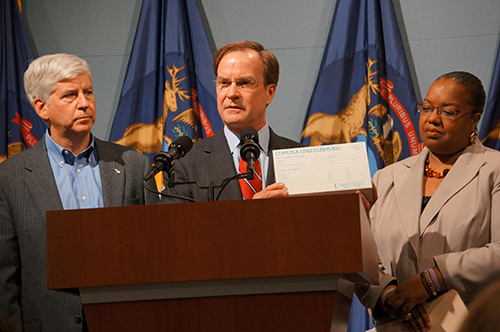 In 2009, more than 11,000 unopened, untested rape kits dating back to the 1980s were discovered in an abandoned Detroit Police Department storage unit. The kits represented thousands of unprosecuted sexual assault cases and potentially thousands of sex offenders still on the streets. Due to economic constraints in Detroit and Wayne County, limited funding has been available to address the backlog. To address this need and bring perpetrators to justice, Enough SAID was created.
Enough SAID (Enough Sexual Assault in Detroit) is a cross-sector collaboration among Michigan Women's Foundation, the Wayne County Prosecutor's Office, and the Detroit Crime Commission, supported by Detroit Mayor Mike Duggan. The goal of this collaboration is to raise business sector funding to test the forgotten rape kits, investigate the crimes, and prosecute the resulting cases, securing justice and closure for victims and ensuring a safer community for everyone. Partners such as MGM Grand Casino Hotel, Quicken Loans, and Comerica have already pledged thousands of dollars.
Sexual assault kits, performed in the aftermath of a sexual assault, contain and preserve evidence obtained from a four to six hour examination of the survivor. The timely analysis of rape kit evidence is essential for keeping both Detroit and Wayne Counties safe because, if a survivor chooses to report their rape to the police, the evidence in the rape kit can be a powerful and effective tool to bring a perpetrator to justice.
Testing the kits will allow the Wayne County Prosecutor's Office to identify unknown assailants, confirm current locations of known suspects, connect suspects to other crimes, and exonerate the innocent. In short, testing all of the kits is the first step in guaranteeing justice for thousands of victims and securing a safer community. To give a statistical snapshot of the rape kit problem in Detroit, an initial random sampling of just 2,000 kits underwent testing and authorities found that 670 of the offenders had their DNA on record from a previous violent crime in the United States. Of these, 188 were serial rapists involved in multiple assaults, and the sample represents fewer than 15 percent of the total number to be tested.
It is important to note, however, that this is not an issue unique to Detroit or Wayne County. This problem occurrs across the country, with more than 400,000 untested kits identified to date nationwide. The Enough SAID intersector partnership represents one of country's first formal efforts to right this wrong. Cities across the United States should learn from Detroit's efforts to address its most pressing issues by redefining itself as a city of opportunity and innovation.