Apr 13 2017

Diving Into The Intersector Toolkit: Identify a Manager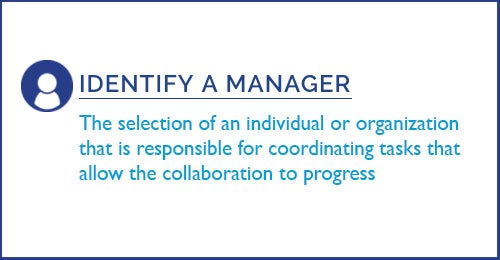 We recently updated our Toolkit for Intersector Collaboration to provide even more useful advice to practitioners involved in cross-sector collaborations. Each week we'll be profiling one of our 17 tools, with a focus on resources that can help collaborations succeed.
A critical component of launching a successful cross-sector collaboration is identifying a manager to coordinate tasks that allow the collaboration to progress and to serve as a single point of accountability for the collaboration. The manager may be a single person, a body of managers, or an organization. The manager may be an existing partner who is well suited to the task, or the collaboration may seek to contract with a third-party manager.
Collaboration partners may have differing expectations of managers and of project management practices. If partners are involved in determining criteria to select a manager, they will be more likely to work with the manager and have confidence in the manager's capacity to coordinate the collaboration's activities. When partners come together to make this decision, they should consider: whether the expertise and experience of the manager align with the collaboration's needs; whether the manager has experience working with collaborations with similar outputs, goals, and types of partners; whether the manager's cost is within the collaboration's budget; and whether the manager is available during the timespan of the collaboration.
Partners can begin identifying a manager by first determining if someone within the partnership has the skills and capacity to take on the role. To do so, partners can see Tool 4: Partnering Roles and Skills Questionnaire in The Partnering Initiative's "The Partnering Toolbook" (found on page 47), which is intended for collaboration partners to assess their skills in areas like project planning and management, communications, facilitation, and more. This one-page questionnaire assesses roles, such as relationship management and resource mobilization, and skills, such as negotiation and evaluating, on a scale of 1 to 5. We suggest this tool can be used by partners to identify whether one or more partners possesses the skills needed to act as collaboration manager, or whether the collaboration has gaps in these areas and should enlist a third party.
Once the manager is identified, Spark Policy Institute's "Strategic Backbone Toolkit" can serve as a valuable resource for the individual(s) or organization(s) that the collaboration has chosen to act as manager — here referred to as the "backbone organization," described as "the chief support system, the entity or entities charged with coordinating the various efforts of partner organizations and ensuring everyone is moving together toward a common goal." The Toolkit includes discussion and resources related to governance, decision making, scaling change, mobilizing and managing funding, and more.
See Identify a Manager in our Toolkit for further discussion on this topic, questions to guide tool use, and more.
Explore the full Toolkit and each of the 17 tools with enhanced discussion, questions to guide tool use, and additional resources here.