Dec 29 2016

Diving Into The Intersector Toolkit: Establish Transparency of Viewpoints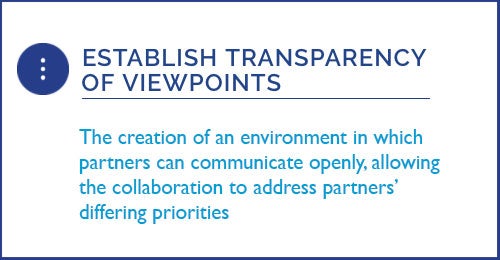 We recently updated our Toolkit for Intersector Collaboration to provide even more useful advice to practitioners involved in cross-sector collaborations. Each week we'll be profiling one of our 17 tools, with a focus on resources that can help collaborations succeed.
Within a cross-sector collaboration, participants will have diverse motivations for partnering. Creating an environment in which partners can communicate openly allows cross-sector collaborations to address partners' differing priorities and viewpoints. Establish Transparency of Viewpoints — the fifth tool in the Intersector Project Toolkit — recommends creating channels to hear and respond to partners' perspectives and concerns. It's important for a collaboration to acknowledge conflicting opinions that can arise from diverse partners, establish a forum for consensus-building, and nurture understanding across organizations and sectors.
Several resources exist to help create transparency of viewpoints. For example, "Communicating Within the Partnership," in The Partnering Initiative's Talking the Walk, contains tips for practitioners and discussion on how to promote open and honest communication within a collaboration (found on pp. 22-25). Also see Section 5: Conversation: The Essential Building Block (found on pp. 37-44) for guidance related to listening, responsiveness, difficult conversations, and more.
Trust is a crucial part of establishing and strengthening transparency of viewpoints. For exercises related to creating team norms that encourage an environment of openness and trust, see Section 3 of the Office of Community Oriented Policing Services' Collaboration Toolkit: How to Build, Fix, and Sustain Productive Partnerships. Also see Section 7: Open Communication for guidance on encouraging candidness among partners, managing conflict, and more.
Focusing on internal practices also helps in increasing transparency and building trust within a partnership. To this end, see Tool 14: Effective Internal Communications in the The Partnership Toolkit from Collaboration Roundtable (found on pp. 79-87) for simple, straightforward guidelines and exercises to encourage internal communications that create an atmosphere of trust and effectiveness.
See Establish Transparency of Viewpoints in our Toolkit for further discussion on this topic, questions to guide tool use, and more.
Explore the full Toolkit and each of the 17 tools with enhanced discussion, questions to guide tool use, and additional resources here.