Jan 19 2017

Diving Into The Intersector Toolkit: Agree on Measures of Success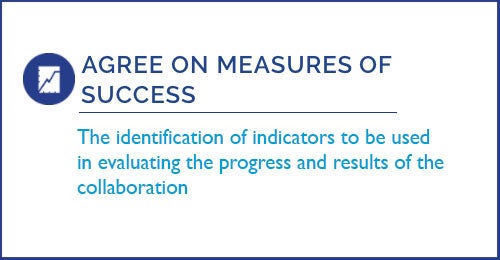 We recently updated our Toolkit for Intersector Collaboration to provide even more useful advice to practitioners involved in cross-sector collaborations. Each week we'll be profiling one of our 17 tools, with a focus on resources that can help collaborations succeed.
Deciding how to measure progress is crucial to moving a cross-sector collaboration's work forward, keeping collaborative members on board, providing insights that allow the collaboration to shift course, and demonstrating the success of the collaboration both internally and externally. Agree on Measures of Success, the seventh tool in our Toolkit, speaks to this process. Partners are likely to have differing views of what benchmarks or measures should be used to identify success, but consensus among partners creates accountability and keeps the collaboration on track toward goals.
There are several excellent resources for assisting collaboration partners in reaching agreement on indicators of success. These include FSG's Working Group Instructions for Developing Shared Metrics and Work Group Reporting Template for Developing Shared Metrics, which are designed to be used together to assist partnerships with identifying indicators, or key data points, for shared measurement of success. The resource guides partners to consider indicators that are "easily understandable to local stakeholders," "produced by a trusted source," "comparable across the different districts, regions, or neighborhoods … and that have the ability to be compared," "affordable to gather and report," and more. While the first resource provides instructions for work to be carried out by a working group and reported back to an organization guiding collaborative work, it can easily be adapted for partners to use on their own.
The Community Tool Box's Creating Objectives provides detailed guidance and activities that walk practitioners through identifying indicators of success, which the Tool Box refers to as SMART+C objectives (Specific, Measurable, Achievable, Relevant, Timed, and Challenging). It includes a discussion of differing types of indicators, "specific measurable results," often "changes in behavior, outcome, and process," that "must be able to be tracked and measured in such a way to show that a change has occurred." Community Tool Box also offers guidance for collecting baseline data — "starting points against which you can measure how much progress you have made." In addition to providing a baseline against which to measure a collaboration's work, baseline data can also provide compelling facts for partners to use when making the case for additional resources from existing or potential partners.
Additionally, the European Commission's Partnership Development Toolkit, particularly Section 3.5: Indicators Column and Section 3.6: Evidence Column (found on pp. 29-31) provides guidance on and a useful template for identifying indicators and evidence that will be used to monitor the collaboration's progress. The Toolkit provides examples of how indicators can measure a collaboration's activities, outputs, results, and ultimate impact.
See Agree on Measure of Success in our Toolkit for further discussion on this topic, questions to guide tool use, and more.
Explore the full Toolkit and each of the 17 tools with enhanced discussion, questions to guide tool use, and additional resources here.