Aug 04 2014

Cross-sector collaboration leads to job opportunities in Greater Cincinnati
Guest Post by Janice Urbanik, Executive Director, Partners for a Competitive Workforce
Editor's Note: Last week we published a case study profiling an intersector collaboration among non-profit, business, and public sectors to create Partners for Competitive Workforce (PCW) — a workforce development program that has become a game-changer in linking low-wage workers and jobseekers to training and credentialing programs that lead to good jobs. 81 percent of PCW's participants have gained employment. Below, Janice Urbanik, Executive Director of the program, provides the practitioner's perspective on this collaboration.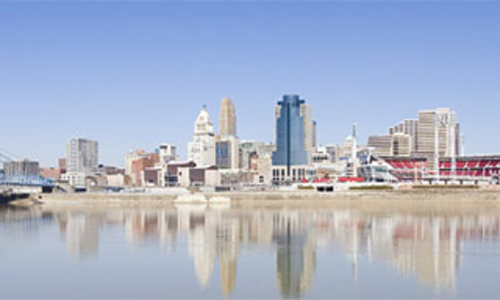 As alarming as the U.S. unemployment rate of 8.6 percent was at the end of the 2000 – 2010 decade, a greater workforce challenge loomed large for the Ohio, Kentucky, and Indiana tri- state region: 50 percent of our workforce lacked the necessary post-secondary education and training to meet the skills required by the region's employers. The growing skills gap became a chokehold to increasing labor force participation and growing our region's economy. Employers in advanced manufacturing, IT, construction, and health care lamented the lack of hard and soft skills, such as basic math and reading, ability to work in teams, and work ethic in workers and jobseekers.
Where could jobseekers turn to find links to training and credentialing that could lead to employment opportunities? And how could our region's job creators and employers address their workforce shortages? Read on to learn about how employer-led industry partnerships created a system for job seekers that increased employment rates up to 40 percent and annual earnings up to 58 percent in just one year.
To begin to answer these questions in earnest, our region sought new solutions to abate this skills and workforce shortage by embarking on a process of collaboration across sectors. More than 150 organizations representing the business, community, non-profit, public, and philanthropic sectors were brought together to create the Greater Cincinnati Workforce Network, now Partners for a Competitive Workforce (PCW) in 2008.
The cross sector collaboration that started PCW has proven to be a game-changer in linking low-wage workers and jobseekers to the right kind of training and credentialing programs that lead to good jobs. From this, employers in our region are gaining access to a skilled talent supply chain and are more competitive.
How did cross collaboration begin? Willing partners were identified that share a common vision of success; these partners established a governance structure that involved each sector. Collaboration among our tri-state regional Workforce Investment Boards was a long-standing model that we could follow as PCW was formed.
Local businesses from healthcare, construction, advanced manufacturing, and later, IT sectors — including Tri-Health, Procter and Gamble, Messer Construction, and many others — devoted their time and energy to develop training curriculums based on the in-demand skills they need and have hired career pathway program participants. Employers have also advocated for federal and state policy changes and investment that impacts our work locally.
Government, including the support of several regional workforce investment boards and the U.S. Department of Labor, has leveraged more than $40 million in state, federal, and private funds since 2008. Through federal funding streams and labor market information to support these efforts, PCW has been able to expand its capacity to support employment and reemployment initiatives.
Non-profits, including the United Way of Greater Cincinnati, have helped provide PCW with funding for staff and program support. United Way convenes stakeholders and encourages participation by other community organizations. Local career tech centers, community colleges and universities provide industry-specific training for jobseekers and incumbent workers, while other non-profit organizations provide work readiness training to prepare individuals for entry- level jobs.
Since 2008, the work of the partner organizations of PCW has closed skills gaps and has served over 7,800 individuals, 87 percent of whom completed training; 81 percent have gained employment, with a 73 percent retention rate of over a year. The annual incomes of program participants who obtained employment have increased by $7,500.
Thanks to cross sector collaboration, PCW's industry partnerships are becoming nationally recognized by policymakers and funders. PCW is one of 35 regional funder collaboratives in The National Fund for Workforce Solutions network. The National Fund is one of our major national funders, and its innovative model is driven by employer-led industry partnerships that are generating impact in Greater Cincinnati and across the country.
PCW participated in a recent impact analysis of National Fund investments in Cincinnati which showed that our industry partnerships in key sectors and industries are resulting in higher employment rates and higher earnings for unemployed participants, compared to similar individuals in a comparison group:
Healthcare
National Fund participants saw:
40 percent higher employment rates after one year
58 percent higher earnings after one year
Advanced Manufacturing
National Fund participants saw:
40 percent higher employment rates after one year
42 percent higher earnings after one year
PCW's industry partnerships were mentioned in a recent White House report, Ready to Work: Job-Driven Training and American Opportunity, which details findings from Vice President Joe Biden's review of federal training programs and highlights examples of responsive and effective programs that can move more people into good jobs and narrow critical skills gaps.
Our region is well on the road to recovery thanks to the hard work and commitment to collaboration.